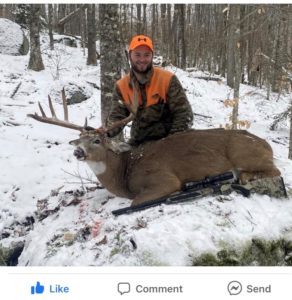 From a post on Facebook: Devin Cota's huge Caledonia County buck shot last season. Scored 159 7/8" Non-typical. Inside spread 24 6/8". New state record non-typical muzzleloader buck. Congrats Devon!
About Vermont whitetails
An estimated 140,000 whitetails are found statewide. Known as a species that prefers forest edge, they occur in highest numbers in habitats that feature a blend of large woodlots and agricultural openings. Deer also are found in more limited numbers in the expansive forests of the Green Mountains and the Northeast Kingdom.
In its northern range, winter areas or "deer yards" are a critically important habitat type for deer to survive through the cold winter. Only 7 to 8% of Vermont's forests make up such wintering areas. An important part of a deer yard is the evergreen trees that catch the snow in their branches, thus reducing snow depth underneath. The trees also provide thermal cover that gives the deer protection from the wind. Deer may move 10 to 15 miles to go to a yard and stay in the protection of the area all winter.
Deer hunting in Vermont is a 100-year tradition. It is an enduring element in the cultural heritage of the state. It is a family activity (deer camps) and community activity (game suppers at fire houses and churches). Through regulated seasons, deer numbers are managed. The public harvests more than 800,000 pounds of venison each year.
The bag limit is 4 deer a season in Vermont, only 1 of which can be a legal buck. In some management units, a legal buck is any deer with at least one antler with two or more antler points one inch in length or longer. In other units, a buck must have one one antler three inches or more in length.