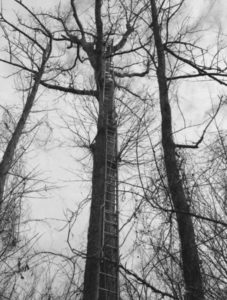 Right or wrong, on private land, many of us leave our lock-ons and/or ladders up in trees and out in the woods all year, ready to hunt next fall. If you do this, here are some important things to keep in mind.
The straps, chains or cables that connect the stands and steps to trees are your foremost consideration when left out in the elements. These connectors will weather and wear, and routine inspection and service is a must.
Longtime BIG DEER blogger and tree stand guru Matt Cheever doesn't skimp. On all 50 tree stands he maintains in Illinois, he uses 3 ratchet straps per climbing apparatus (ladder section or stick) and another 3 straps on each lock-on stand. He recommends 500- to 1,000-pound ratchet straps.
"If one strap is chewed on by a squirrel or starts to dry out, the others will still be strong," Matt says. "On every stand each year I replace one of the 3 straps; it's easy to tell by fading which strap is the oldest and needs replacing. I want at least one brand-new strap on every step and stand each year.
"I'm religious about one thing–how thoroughly and carefully I inspect and maintain each one. Neglecting this is not an option."
The ratchets will run you about $5 per stand and per climbing stick, well worth it.
At the end of deer season, many hunters loosen the strap, chain or cable that connects the platform to the tree. This way the tree can grow and expand a little without putting undue tension and stress on the straps. When you come back to hunt next year, you must remember to re-tighten the straps or chains and lock them down!
The last day of the season that I hunt a tree stand, I pack out a removeable seat cushion, along with pull ropes and Lifelines. Best to keep these out of the weather and away from squirrels until next fall.
If you're worried about a thief stealing your stands, you've got a couple of options. One, secure the hang-on or ladder to the tree with cable and lock. Or, take down and pack out the lower sections of steps or climbing sticks. A scum-bag could still steal the stand, but it would be a lot more work and trouble.