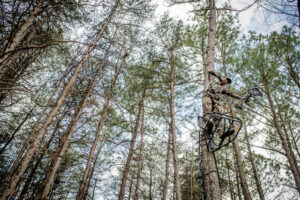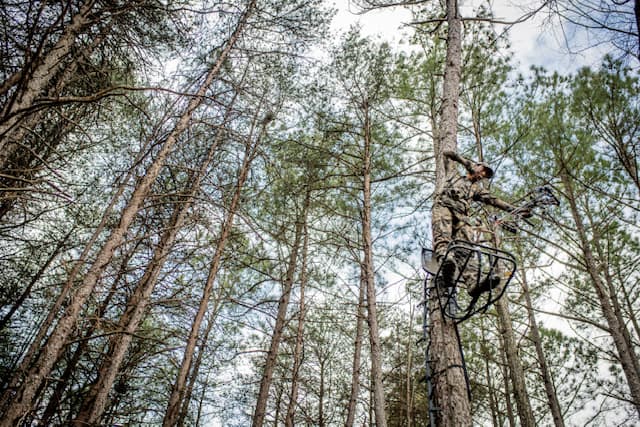 Set your best tree stands ever this season with these 10 hanging tips:
Don't clang and bang and spook a buck before you hunt him. Secure stand sections, seat, chain, buckles, etc. with rope or elastic bands so they're quiet as you hike into a spot.
Backpack your stand toward a hunting site from downwind and through a dead zone where few deer hang out. Hide and sneak behind cover.
A straight, solid tree 12 to 15 inches in diameter is perfect for a fixed-position or "lock-on" stand. It is easy and safe to get your arms around a tree that size as you set steps, climb and hang a perch. Once you're up and hunting, a tree just as wide as your body breaks your silhouette, but it is narrow enough so that you can move freely and see all around.
Once you've chosen a tree, back up 50-60 yards and walk around it. Bend and look up into the treetops from a deer's perspective to see which angle provides the best backdrop. Try to conceal your lock-on amid limbs, leaves or vines; a high fork is great. Some cover to the front and sides of your platform is good, but a thick backdrop is most important.
Shoot for 17-18 feet give or take. That's high enough to stay above the eyes and noses of deer, but low enough so that you'll feel at least semi-solid, safe and comfortable. Plus, when you're archery hunting, it's the ideal height at which to cut loose an arrow. When an 8-pointer is broadside or quartering-away at 15 to 30 yards you can see and shoot at plenty of lungs.
Any hunter should use ladder steps with a lock-on stand. They are heavy and are bulky, but quick to fit together and strap to a tree; better yet they are easy and safe to climb. Carry 4 or 5 sections so that the ladder runs a foot or more above your stand. Climb all way to the top, and then step safely down onto the platform.
It's mandatory to wear a full-body harness in a tree stand, just like you wear your seat belt on the drive to your hunting spot.
Don't just stick a stand on a tree, angle it for max advantage. If you shoot right-handed, set the stand so that the prevailing wind hits the left side of your body (vice versa for southpaws). That enables you to draw a bow or aim a gun with little movement when a buck shows up virtually anywhere 180 degrees in front of your stand.
You need a bow holder to cut down on fatigue and free your hands for glassing, rattling, etc. My favorite is the Team Realtree E-Z Hanger. If you're right-handed, screw the swivel-arm hanger up and to the right of your stand; when you see a buck, reach out a foot or so and ease your bow off the hook. The hanger also doubles as a good rest for your muzzleloader or .270. Screw a couple of them in the tree on either side of your stand so you can nail a buck anywhere.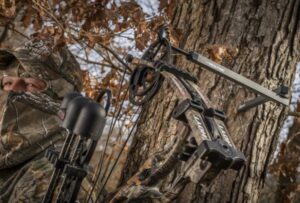 10. Buy an assortment of rubber-coated hardware hooks from Home Depot. Screw in the hooks all around your perch and use them to hang pack, horns, binoculars, etc. Attach two pull-up ropes to the seat, one for your bow or gun and the other for your day pack.
11. Sit in your stand, reach out and saw or prune any limb or leaf cluster that might grab a bow limb, knock an arrow off rest, restrict the swing of your rifle… you get the idea. When you're bowhunting, trim at least 4 shooting lanes out to 40 yards. Drag cut limbs and saplings 75 yards behind your stand and downwind so they won't block or turn any deer that try to walk close; the animals won't smell your scent on them either.