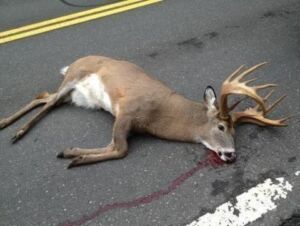 A new study published in Current Biology estimated that some 36,500 deer deaths, 33 human deaths and 2,000 human injuries could be prevented annually by halting the switch from daylight saving to standard time in autumn and during the deer rut.
USA Today reports that researchers analyzed more than 1 million deer collisions and 96 million hourly traffic observations, and found that deer collisions are 14 times more frequent in the two hours after sunset than before sunset, according to the study. When peak traffic volumes shift to after sunset following the transition from daylight saving to standard time, there is a 16% spike in collisions the week following, the study says. Delaying the sunset could also save the country $1.19 billion in collision costs, according to the study.
Sounds like a good idea to me.
Did you know?: In the U.S. people hit nearly 1.3 million deer annually with vehicles. About one in every 23 deer alive now will get hit in any given year, a crazy statistic! Spring (fawning) and fall (rut) are the worst times for deer-car accidents so slow down and be safe.