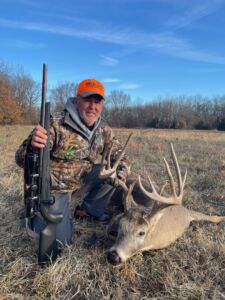 I've been researching and writing/blogging about whitetail deer for more than 30 years and one thing has remained amazingly constant. If you want to kill a big buck, a really big buck and maybe even a Booner, hunt in one of these 9 states.
Wisconsin
Illinois
Iowa
Minnesota
Kentucky
Ohio
Kansas
Indiana
Check a 2000 version of the Pope & Young or Boone & Crockett record book, and you'll find those states at or near the top for buck entries. Look into the future and read a 2030 version of a record book and the data will remain similar.
The top states have agriculture, edge and cover; rich soils; and well-established buck genetics. Most have a one buck per year limit. Many set their gun season outside the rut. Toss in the fact that hunters are being more selective and passing young bucks like never before, and these states will continue to crank out mature, massive-racked bucks for the foreseeable future.
Three additional states I've recently hunted and have on my watch list are Missouri, Oklahoma and Nebraska. Combined, these states have put more than 80 racks in Boone & Crockett the last 3  seasons, and I expect more entries in the coming decade.