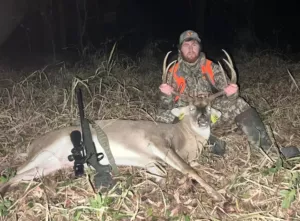 In 2020 we reported on "Buck 140," which amazed researchers with the Mississippi State Deer Lab as the GPS-collared deer left his home range in Mississippi and traveled into Louisiana, covering 40 miles and swimming across the mighty Mississippi River two times. "This guy is an extreme case of mobile personality on steroids," said one of the MSU researchers at the time.
Turns out over the last 2 years, 140 walked more miles and swam the river 4 times on his cross-country migration!
Alas, Buck 140's traveling and swimming days came to an end one day last December when Mississippi hunter Trevor Martin pulled the trigger on the big-racked 8-pointer. ""I was so shocked," Trevor said. "I didn't even know he had (ear research) tags when I shot him.