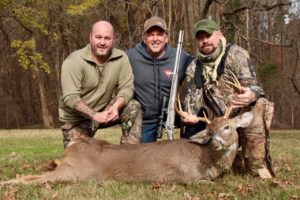 This weekend we pay our heartfelt respects to all those who have served.
This holiday started as a day to reflect upon the heroism of those who died in our country's service and was originally called Armistice Day. It fell on Nov. 11 because that is the anniversary of the signing of the Armistice that ended World War I. In 1954, the holiday was changed to Veterans Day in order to account for all veterans in all wars.
All of us here at Big Deer TV and Sportsman Channel celebrate our veterans for their patriotism, love of country and willingness to serve and sacrifice for the common good.
In their honor, please watch an encore presentation of "Bond of Brothers" on Big Deer TV tonight at 6:30 p.m. on Sportsman Channel.
Shout out to our great sponsors Trijicon, Remington and Wildlife Research Center, and to the Veterans Outdoor Fund for helping to make this special deer hunt happen.