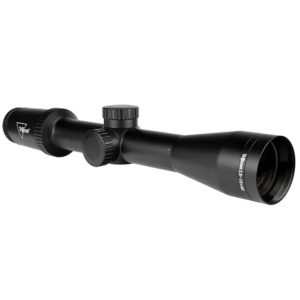 Trijicon, the official riflescope partner of BIG DEER TV, introduces the Huron scope specifically designed for the North American deer hunter.
This is a world-class optic, top-quality glass and a rugged aluminum construction. Like all Trijicon optics used by the U.S. military and law enforcement, the Huron hunting scope undergoes extensive testing: temperature shock tests from -20 degrees F to 140 degrees F; every model is subjected to 5,000 consecutive rounds to confirm no reticle shift; and immersion tested, every riflescope is dry-nitrogen filled to eliminate internal fogging.
Whether you hunt thick eastern brush or more open fields and plains in the Midwest or West, there is a variable-power scope option for you: 3-9 by 40mm, 3-12x40mm and 2.5-10 by 40mm. Each model has clean lines and is sleek, allowing you to mount the scope low on a rifle. When you mount a scope as low as possible, you'll cheek and shoot a rifle more comfortably and better.
If you shop around you can purchase a Huron scope for around $500. A solid investment and likely the last hunting scope you'll ever need. Huron scopes will be fitted on several of my deer rifles this year.
Here are specs from one of my favorite models, the Huron 2.5-10x40mm:
Magnification:   2.5 – 10 x
Objective Lens Diameter:             40 mm
Tube Diameter: 30 mm
Reticle: BDC, BDC Hunter Holds
Non-Illuminated
Eye Relief:           2.4 – 3.3 in
Optical Coating: Anti-Scratch
Weather Resistance:      Fog Resistant
Water Resistance Level: Waterproof
Length: 12.55 in
Height: 2.26 in
Weight: 18.2 oz
Finish:   Satin
Material:              6061 Aluminum
Accessories:       Lens Cap, Warranty Card, Quick Reference Guide, Logo Sticker, Scopecoat