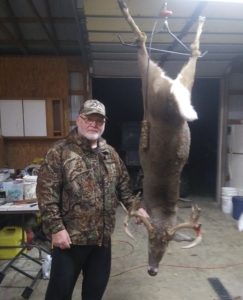 Today's fine guest post is from Big Daddy, who has been with me on the Big Deer Blog since I started it 11 years ago. Thanks for the support, BD!
I began hunting in 1967 at age 12 and took my first bow-killed deer,a doe, that year. In those early years I was just trying to kill any deer. The years passed and most found me with a filled tag, some with bow others with gun.
In 1976 I killed my first P&Y buck and it changed my hunting career forever. During the past 42 years I have taken 43 bucks with a bow, all but one in Pennsylvania. One was in New Jersey.
I purchased property in north-central PA 32 years ago to pursue my love of hunting. Over the years I began managing the land for bigger bucks, using timber sales with small food plots mixed in. It is here I took this year's buck.
I first saw him as 1 1\2-year-old. During the past 2 years I got just 3 pictures of him. I did, however, know his track along with the general area he frequented.
When his sign began showing up near a 1\2-acre plot of clover situated in the middle of a 4-year-old clear cut I moved a ground blind in on September 30. The wind needed to be from the southeast to hunt this plot, and during October only 4 evenings were ideal wind conditions. I never hunt a bad wind and opted to hunt other areas when the wind wasn't right.
Finally, November 5 the wind was good, temps were in the upper thirties and I was in the blind. At 5:00 PM he trailed a doe right past the blind. Like the saying goes I put a Rage in the Cage!
Today at age 64 my love for hunting has not waned one bit, but killing a big buck is secondary to spending time with my son, grandson and hunting buddies at camp. Be it hunting, planting food plots or hanging by the bonfire I still love it all. The name of my camp is "Making Memories" and I sure have them.—Big Daddy