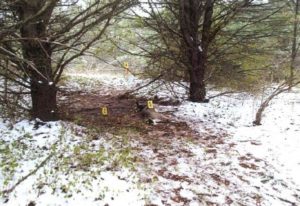 From Deer & Deer Hunting: A convicted felon will serve just five years in prison for trespassing and killing a hunter who was in the process of field-dressing a buck he shot on opening day of Michigan's 2018 deer season.
According to the Michigan DNR, Justin Beutel, 38, was hunting on family land… He had just shot a buck, recovered it, and then sent photos of the deer to family and friends. After taking a photo of himself with the deer, Beutel started field-dressing the buck. He was then was shot and killed by David Michael Barber.
According to court records, Barber said he did not see Beutel (who was wearing an orange hat) and thought he was shooting at a deer. The investigative report said that after crossing a road and walking past "No Trespassing" signs, he crested a hill, saw what he thought was a deer, and shot.
It took a 12-person jury three days to return the guilty verdicts in Michigan's 13th Circuit Court in Antrim County.
I don't know what to make of this tragedy. Many hunting "accidents" turn out to be homicides fueled by personal disputes between people who know and hate each other. But in this case police reports indicate that Beutel did not know Barber, a convicted felon who should never have had a firearm.
And who surely IMO should have gotten more than 5 years in prison
(Source Deer & Deer Hunting; crime scene photo Antrim County Sheriff's Office)