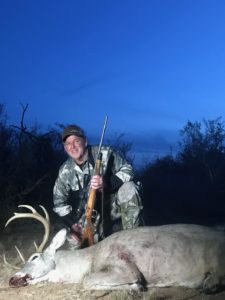 There are 2 reasons to visit South Texas in January: the weather is wonderful, and there are plenty of big deer running around.
On most ranches in Texas, those bucks are classified as either "trophy" or "management" deer. Trophies are bucks with 10 points or better that have the potential to grow 150-class racks and larger, up to 170-plus. The larger the racks, the more expensive they are to hunt.
Texas ranchers and deer managers consider management bucks to be: 1) 4-year-old and older deer with limited antler potential; and 2) bucks with 9 points or less that gross score less than 140 inches. These are the type of bucks that I can afford to hunt (cost of a management buck hunt is at least half that of a trophy hunt) and enjoy hunting the most. To me, the definition of Big Deer is Mature Deer, regardless of how many inches of antler on his head.
My latest hunt for a management buck took place last week down near Bracketville, Texas. SOE Hunts has access to multiple free-range ranches in the area, most of them thick with a good number of management bucks.
I spent the first 2 days of my hunt sitting in box blinds and glassing and watching as many bucks as I could. If you go on a similar hunt in Texas, I recommend you do the same. Glassing racks with 9 points or less that score 140 or less is not really a problem. But aging bucks on the hoof, trying to decide if a deer is 4 years old, is tricky, especially in the January post-rut when bucks are thin and run down, possibly having lost as much as 20 percent of their body weight from chasing and breeding does back in peak rut in December.
I glassed and studied more than a dozen 130-140″ bucks in 2 days and with 4 of the bucks I struggled with judging their age: 3 or 4 years old?
Then one of the guides on the ranch texted me this picture. I immediately texted him that I had not yet seen that buck, but he was the one I wanted to hunt. The epitome of a Texas management deer, at least 5 years old and thick and a bit saggy, with a main-frame 8-point rack missing brow tines. If you looked up the definition of management buck in a pictorial dictionary, this would be the one.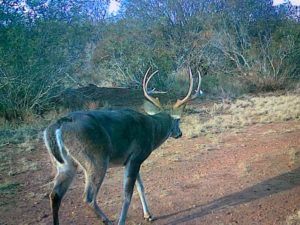 An hour before dark on the third afternoon, he busted out of thick brush and started pushing every doe in sight. This being the post-rut, I did not really expect this much late rutting, but it was cool to see. The buck pushed does around for a good 5 minutes before he stopped for a shot.
My 140-grain bullet was on point, and the biggest-bodied management buck I have ever shot was on the ground. You'll see all the action on a new episode of BIG DEER TV this summer.
If you have never hunted South Texas for a management buck before, I encourage you to go one January. It is an entirely different type of hunting than you get back home, a new challenge and one heck of a lot of fun. It's apt to be sunny and 70s most days, that's a nice bonus.