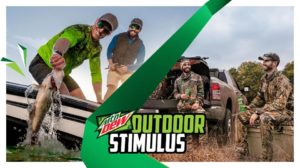 As part of its "Out Here. It's DEW." campaign, Mountain Dew's $100,000 Outdoor Stimulus will reimburse one 2020 hunting and fishing license per household for the first 5,000 outdoor enthusiasts who apply.
Those who win the contest will receive a one-time $20 payment toward their fishing and hunting licenses, paid out via Venmo or check. Licensed fisherman and hunters' permits fund wildlife conservation, education and restoration within their states.
Beginning Wednesday, July 15 at 10:00 a.m. ET, hunters and anglers can apply for the Mountain Dew Outdoor Stimulus by visiting the contest's landing page and submitting photos of their fishing or hunting licenses from the last year.