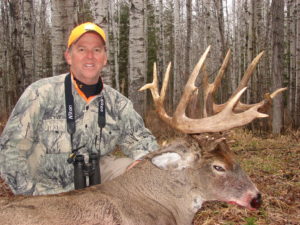 I just talked with a couple of my outfitting friends up in Saskatchewan and they confirmed what I already knew. The Canada-US border is closed to non-essential travel through October and likely into next year. Therefore, no Americans will hunt deer anywhere in Canada in 2020.
I am bummed because I was scheduled to hunt my favorite area and shoot another TV show near Green Lake, Saskatchewan the second week of November. I've hunted the second week up in the bush for more than 3 decades, and have killed some giants, including the 209-incher above, and the 173-inch buck below.
With no Americans going up this fall and spending $5,000-plus apiece to hunt for a big deer, there will be a lot of pain in the outfitting business. But for the Canadian guides who can hang on and stay in business, this will lead to some spectacular big-buck opportunities in 2021, 2022 and beyond.
If your dream is to hunt Saskatchewan, or Alberta, for a mega-buck, it's time to start planning for a trip in November, 2021.
I killed most of my big deer in Saskatchewan from 2008-2012, the last great big-buck years in the province. Since then, I've shot a few 140-class bucks and one in the 150s. I've also hunted hard for 6 days some years, passed a lot 130-class bucks and gone home empty-handed.
Truth is, the last 7 or 8 years have been tough hunting in Saskatchewan. Some years the winters have been bad and killed off some deer.
Every year for the past 8 years there has been too much hunting pressure and killing of immature bucks. American hunters have shot way too many 130-class bucks (2½ to 3 ½ years old) that, given a year or 2 or 3 to age, would have scored in the 150s to 170s and higher.
I count some 173 registered outfitters in Saskatchewan. (Americans must hire a guide to legally hunt up there.) Say a typical outfitter normally takes 20 clients a year, and they shoot 10 bucks, for a total of 1,730 kills.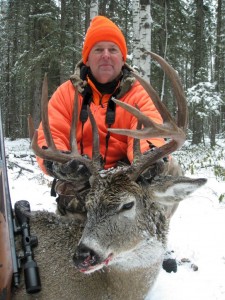 Note: That 20 client number is very conservative. There are outfits in Saskatchewan that run 50 to 80 to maybe more hunters through their camps each season. I have learned by trial and error to avoid the big outfits and crowds and hunt with guides that take only 20 or so hunters a year, or 5-6 hunters a week.
Anyhow, this fall any one of those 173 Saskatchewan outfitters will be lucky to take 3 or 4 hunters from another Canadian province. In 3 decades hunting up there, I can count on one hand the number of resident Canadian hunters I have seen in a Saskatchewan deer camp.
Say each of the outfitters shoots 2 good bucks out of their areas, for a total of 346 kills. Theoretically, some 1,400 bucks and likely many more will not be harvested this fall.
Great! Most of those deer will mature and grow another year, and there will be a better age structure and hundreds of bigger bucks roaming the Saskatchewan (and Alberta) bush next fall.
Disclaimer: The milder the winter of 2020-21 is, the more deer that will survive, and the better the age structure of the bucks. Wolves and other predators will kill some deer, but the whitetail herds up there have live with that for decades.
My advice: If you want to plan a Canadian hunt for a dream buck, 2021 or 2022 will be the year to do it. Start doing your research now and plan early, because if we get a vaccine for COVID and the Canada border opens up, the best outfitters will fill their deer camps by the spring of 2021.
I've already locked in the second week of November 2021 with an outfitter, maybe I'll see you up there.