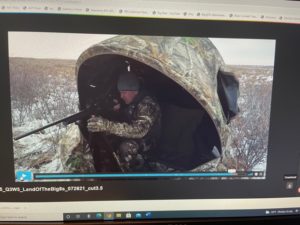 On the plains of the Texas Panhandle last December, I packed in this unique little blind, plopped down the attached chair, sat down in it, organized my gear around me, pulled the camouflage fabric cover over my head, and was hunting a buck in minutes.
The Ameristep Tent Chair has these advantages over standard and generally larger ground blinds:
small, lightweight and easy to pack.
since it's one piece, no lugging both blind and chair(s) and having to make multiple trips to get all your gear into a hunt spot; you hike in with your rifle, pack and the Tent Chair on your shoulder (carry case included), find your spot and you're ready to set up and hunt.
you have to wrestle with larger folding blinds, popping out the sides and tops, figuring which to pop out first; with the Tent Chair, pull it out of the carrying case, plop the chair down on level ground, sit and pull the blind over your head. You set it up and hunt in less than a minute.
The Tent Chair is smaller profile than most blinds, something I like when hunting whitetails. The one downside to packing in a blind and setting it in a new spot is that some old deer, especially a mature doe, will see the blind, realize that the blob wasn't there yesterday, smell a rat, get antsy and spook. The Tent Chair is fairly small, so if you hide it in grass or amongst trees, you can sometimes beat an old doe's eyes.
I tested the one-man Tent Chair, which weighs 13 pounds and is 5' tall and 52" wide when set up. It's a medium fabric camp chair; the Durashell fabric blind is attached to it with metal tubing that you simply fold over you while sitting, and back to get up and leave. The Tent Chair I used set up and folded smoothly and quietly in seconds.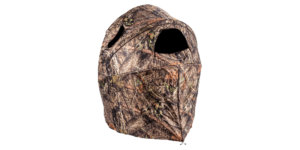 When you're sitting and hunting, it has well-positioned front and side windows for glassing and shooting.
The blind comes with stakes, though I didn't use them even in the 20 winds with 40 mph gusts on the plains. Your sitting weight holds the Tent securely in place.
The Tent Chair is not perfect. Feels a bit cramped, though I actually liked the snug, warm feel because it was windy and cold on my hunt. Twisting in the chair to set up a shot at a buck out the right side window could be tricky.
Thankfully this 8-point I shot from the Tent Chair came in straight out front. You can see the hunt on a new episode of BIG DEER TV later this fall.
Ease of packing and speed of set up definitely make the Tent Chair a good buy if you hunt on the ground a lot, as I do, and especially if you plan to hike deep into an area to get away from the crowds.
It's made for the gun or crossbow hunter. While good for deer, it would be absolutely awesome for turkey hunting. You could move in, set it up anywhere and call a gobbler right in.
You can grab the one-chair Tent for about $90 at Amazon (a steal in my opinion). A 2-chair model is also available, perfect for taking a kid along.