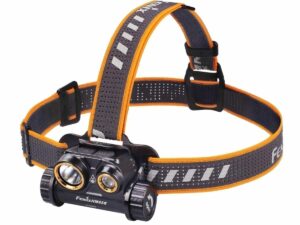 In recent years, I've spent a little extra money to upgrade all my hunting gear, and I hunt better and safer for it.
The housing of the Fenix HM65R headlamp I now use for deer hunting is built of a serious quality, black magnesium alloy. It's strong, lightweight, and even waterproof to 2m.
The 2 lights—a large spot with clear lens and a smaller flood with diffuser lens—have individual on/off buttons, and can be used independently, which is practical in most hunting situations.
With an easy press of a button, you can engage 4 output levels on the spotlight; at the highest output, it's a published 1000 lumens of light, which in layman's term is very, very bright. Three flood light levels, which you'll use a lot when climbing into and out of a tree stand or deer blind in the dark, offer wider, softer beams.
If you really need to light up the night you could flip on both lights at once, for a combined published maximum 1400 lumens of both neutral and white light at the highest settings.
Using both lights would be overkill for a hunting light, unless you'll be tracking a shot buck after dark on a new moon night. And I hunt in some remote, wild places, like the thick wolf bush of northern Saskatchewan, where you go into a blind in the pitch-black each morning, and come out an hour after sundown each day. I want that overkill when I feel the need for comfort and safety, and this Fenix headlamp provides it.
The lights are powered by a Fenix 3500mAh 18650 rechargeable battery with a built-in USB-C charging port on the back of the light housing (charging cord included). The 4-step blue battery level indicator is handy; with a simple touch of either of the on/off buttons, you know how much battery you have at all times. Another excellent touch; you have to press and hold the button for 3 seconds to turn on either light, which prevents accidental turn on and a dead battery in the bottom of your pack.
Cheap headlamps have flimsy, ill-fitting headbands. Not this one. The adjustable orange-and-gray band and top strap (removable) fit snugly. The inside front of the wrap-around band has an interesting rubber grip strip, which helps to keep the frontal light solid and stable as you hike or climb into a tree stand, even when sweating when dragging a deer or quartering an elk.
Fully charged, the HM65R provides excellent runtime. In most hunting situations you'll use the low to medium floodlight and get more than 150 hours battery life. When you need more serious illumination from the spotlight, for example when tracking a bowshot animal deep in the woods after dark, you get 22 hours of runtime (medium mode). Plenty of time to find that animal.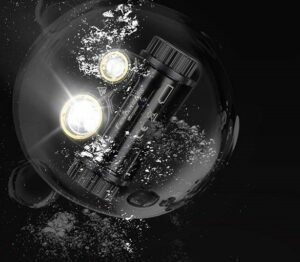 My only gripe with this light is, ironically, that it can be too bright. Flip it on in a small, black deer blind at 5 a.m., for example, and even the low mode beam can make you blink uncomfortably and disorient you a bit. Other users and reviewers of the HM65R have said one more low light output mode would be good, and I agree.
Overall, if you want a top-quality headlamp for finding and climbing into a tree stand in the dark, or tracking a shot deer a mile or more in the woods, or packing fresh elk meat out of a remote canyon under a dark moon, you can't go wrong with this one.
The Fenix HM65R comes with a lifetime warranty and is available for $94.95.