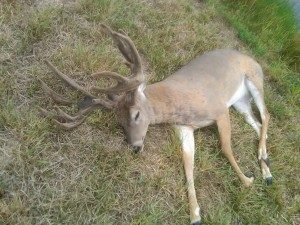 So far, it's not been a terrible summer for deer deaths due to Epizootic Hemorrhagic Disease (EHD), but it's still early in September. The disease typically rears its ugly head starting in August each year and runs through the first frosty weather of October.
Here are the 2021 outbreaks we know of:
Idaho: The most sick and dead whitetails are showing up in the West. Idaho Fish and Wildlife has confirmed positive cases of EHD in samples taken from dead deer in the Clearwater area. Reports of 250-300 dead deer and counting.
Washington: 36 deer near the town of Colfax are believed to have died from EHD. Two dead whitetails near Davenport tested positive. "We are bracing ourselves for this being a pretty bad (EHD) year," said veterinarian Kristin Mansfield of the Washington Department of Fish and Wildlife.
North Dakota: An outbreak of EHD (how many deer it has killed unknown) seems confined to a 20-mile radius of the Bismarck-Mandan area.
Back East: The New Jersey Division of Fish and Wildlife has confirmed EHD in a dead deer from Burlington County. In New York, 2 deer in Ulster County died after contracting EHD, which has plagued the deer population in the Hudson Valley in recent years. Wildlife officials are following up on reports of other dead deer in Dutchess and Westchester counties.
Symptoms of EHD-infected deer include stumbling, drooling and foaming at the mouth. Since the disease causes fever, dead deer are often found near water. EHD transmission ends when the first hard frost of fall kills the midges that bites and infects deer.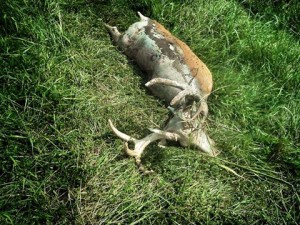 While there is no evidence hunters are at risk by handling EHD-infected deer or eating the meat, never to eat a deer that appears sick or unhealthy.
Scouts and early bowhunters across the country and in every state should keep their eyes and noses open for sick or freshly dead deer. All state wildlife departments urge hunters to report any sick or dead deer, online and with photos if possible, to help wildlife officials and veterinarians gauge the extent of an outbreak.
In some cases, game officials wish to collect tissue and blood samples from fresh deer carcasses, so notify the authorities as soon as possible if you find a dead deer.