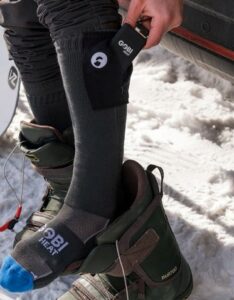 I hunt in northern Saskatchewan every year, where the primary technique is to sit in a brush blind out in the elements from dawn to dusk, hoping a giant buck strolls by. Sitting still for 9 hours in temps that range from the single digits to high 20s, like I did for a week in November, was the perfect field-test for Gobi Tread Heated Socks.
If you've hunted from a tree stand or blind very much in cold climates, I don't have to tell you about cold feet, one of the true banes of deer hunting.
The mediumweight, calf-high cotton socks are infused with steel fiber heating technology that focuses warmth in heat zones beneath your toes, where you need it most when sitting in a deer stand for hours. Two ultra slim, 5-volt lithium batteries, which fit in zippered slots and plug in near the top of each sock, power up 3 heat settings—low (113 degrees F according to Gobi), medium (131 degrees) and high (140 degrees). The socks cost $179.
I used the low setting most for 2 reasons: I didn't want my feet to get too hot and possibly sweat in my rubber boots, and two, I wanted the battery power to last all day. Gobi advertises 12 hours of battery life for each sock on the low setting. I got close to that, 9-10 hours strong and more than enough warmth to keep my toes comfortable, but not too hot, all day.
If you want to switch between the low, medium and high settings, the socks come with a handy little remote control for the job. As you would expect, a battery charger is also included.
As an add on, Gobi sells additional batteries ($59 for 2-battery set), and I plan on purchasing them to have as backup. After long, cold days in the woods in remote camps, efficiently charging batteries can be difficult.  By carrying spare batteries, I know I'll have fully heated socks for every day of the hunt, even if I forget to charge one set at night.
The first heated socks I wore decades ago (heavy gray with red rings around the top, anybody remember those?) were powered by big, clunky D cell batteries. I think I wore them twice, they didn't work. For years I've used toe warmer packets, which stick to your socks and provide warmth by oxidation. They work okay for a couple of hours, and after that you're sitting and walking around with 2 cold, hard lumps in your boots.
I'm ditching the toe warmers now. Whenever I hunt and film for BIG DEER TV anywhere north of 40th parallel from November to January, I'll be wearing Gobi Heated Socks. No more cold feet for me, these socks work and are worth the money.