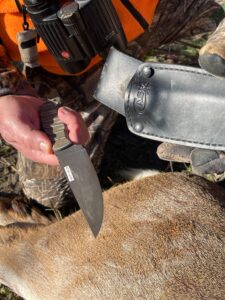 The sleek design of the Case® Winkler Skinner is the result of a long career in knife making by Master Bladesmith Daniel Winkler and the experiences of retired U.S. Army Special Operator and Navy SEAL Kevin "Skinner" Holland. This handcrafted knife is the first in a series of collaborations that celebrate American Heroes, an idea brought to life by Case's historic military contributions and Winkler Knives' ongoing involvement with U.S. Special Operations.
This fixed-blade knife is lightweight (6.7 ounces), well-balanced and impressively sturdy. The sculpted, multi-camo handle with finger grooves fit my hand perfectly as I gutted, skinned and caped an Alabama buck. The flat ground, distal tapered trailing point blade (5.2 inches) is made from 80CrV2 steel, known for its strength, superior edge retention and ease of sharpening.
For hunting I prefer a trailing point, so named because the sharp point trails a tad higher than the axis of the spine of the blade. The versatile Skinner works well for gutting–stick the point just through a deer's underbelly and use the first 2 fingers on your off hand to guide the blade up to the brisket without nicking the entrails. The Winkler Skinner is plenty sturdy and strong enough to cut through the tough brisket of any deer or even an elk. The trailing point's large, curved belly shines for skinning hides, and the fine point works great for the delicate work, like caping around a buck's eyes and nose.
The fixed-blade knife comes with a sturdy molded black leather sheath, designed so that the knife fits in snugly and can be carried on either side of your belt.
The handcrafted Winkler Skinner is a work of art. It's the most classy and expensive knife ($347 MSRP) I have ever carried for hunting, and without question one of the best. For the discriminating knife collector and outdoorsman, this blade is a winner.