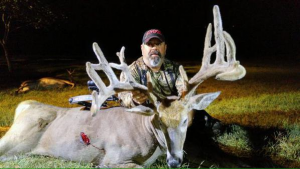 In states where bow season opens early in September, many hunters and archery outfitters I know are reluctant or downright refuse to hunt the mornings. Their reasoning is that it's tough to get back into stands near a bedding area without spooking deer that are already home and bedded from a long night of feeding in a nearby crop field.
Some truth to that, but when I've only got a few days or a week to bowhunt an area, I want to hunt the first two hours of each day, which literally doubles my chances of killing a buck. Say I'm on a 5-day hunt. Only 5 sits if I hunt the afternoons only, but 10 if I hunt the mornings.
In a study in Oklahoma, researchers fitted bucks with GPS collars and monitored their movements using a technique called "fractal dimension," which describes the complexity of travel patterns used by whitetails.
Scientists found that in late summer and early fall, bucks stick to small home ranges (300 to 400 acres on average) and have complex mazes of movement, which are the result of many short-distance trips during which deer frequently circle, backtrack and change directions as they move from feed back to bed in the woods and thickets.
Here's how to use that science to your advantage, and it opens up a morning option for the early season.
Since bucks are moving shorter distances in more confined habitats, scout for the first rubs and the most heavily used trails on an oak ridge or back in a creek or river bottom. Be careful as you probe the woods, being as low-impact and scent-free as possible.
Based on the biggest rubs and freshest sign you find, hang a tree stand near a high-interaction spot that deer appear to frequent a lot. When the wind and access allow it, slip in the back door early one morning and hunt the stand.
While other people are sleeping in and waiting for the afternoon hunt, you might score big at sunup.