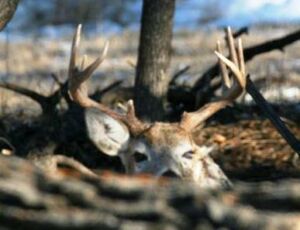 Sometimes the only way to fool a gnarly old buck is to get bold and hunt near his bedroom. Risky, but it can be done.
First, find which patch of cover a big deer favors. Spend a few sunrises glassing field edges, fencerows, brushy ditches, and the like. Try to spot Mr. Big slipping home after a late night on the woods. Consult an aerial photograph and draw on your past experiences to predict where the buck is holing up.
One day around lunchtime go in from downwind and hang a stand on a ridge flat, along a trail, or near a funnel 100 to 150 yards downwind of the cover where you think he's bedding. Some days. your target buck will skirt and scent-check his bedroom from somewhere downwind before he piles in. So doing, hopefully he'll walk within shooting range of the stand you just set.
When you return to hunt the stand, sneak in on the same path and settle into your perch super early in the dark. If you're just 5 minutes late you might bump into the buck, or he might be past your post and curled in bed before you arrive.