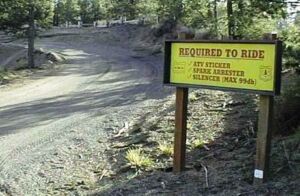 I recently read that the illegal use of ATVs has supplanted garbage dumping as the No. 1 law-enforcement problem on our national forest lands and other public areas. I knew it was going on, I just didn't realize the magnitude of the problem.
Apparently, fools are flying up and down roads on their bikes behind locked Forest Service gates, cutting illegal trails around the gates, racing though the timber, and doing doughnuts in meadows and fields. They are littering trash, shooting up signs and basically raising all kinds of hell.
They are ruining it for law-abiding people like us who hike, hunt and use ATVs responsibly.
The U.S. Forest Service welcomes responsible ATV use in designated areas. I'm pro-ATV and especially love to haul out dead deer on the rack of a quad or UTV.
While authorities say that most illegal riding goes on in the spring/summer, I've had more than one deer hunt ruined by some clown roaring by on a nearby log road, have you?
There are few COs and even less money to catch and convict illegal ATV riders on 200 million acres of national forest land from Florida to Alaska. The few joyriders who are caught are slapped on the wrist and fined $100 or so.
I read that the maximum penalty for chronic illegal ATV use on federal land is something like 6 months in jail and a $5,000 fine, but nobody gets near those sentences. If judges would start dishing out some hurt—maybe even just probation and a $1,000 fine–that  might help solve this problem.