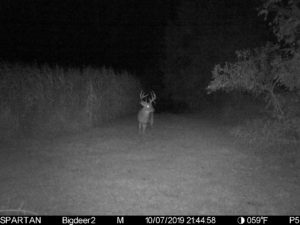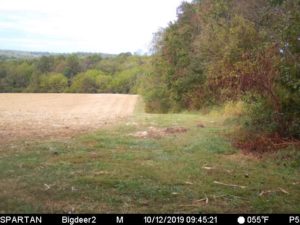 Look at the first trail camera image, a lot of bucks including this giant drop tine had been walking the chute between the standing corn and the hedgerow for a month.
Image 2 shows the corn recently cut, and since then no deer have shown up on camera.
It's like this all over the country in October, fields of standing corn are being cut, so how do you adjust?
The days after a farmer cuts the crops can be awesome for hunting. The sudden change in habitat forces deer to move around a lot as they settle into new bed-to-feed patterns. The animals will seek out alternative food sources (most often acorns and browse) and especially new bedding/travel cover in nearby woods and thickets.
Re-set your trail cameras to the nearest cover that rims the cut corn, like the closest strip of brushy woods. In a day or so, you're apt to pick up at least a few of those bucks again on camera.
Also hang a tree stand 100 or so off a freshly cut field, in a timbered draw or on an oak ridge, and you should see good movement as deer sort out new patterns.
Even if you don't kill a buck now, you'll observe how and where the deer will move the rest of the fall, which can only help on future hunts.