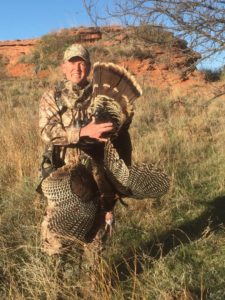 Stay at home orders have been enacted in more than 40 states, and "non-essential" activities have been shut down. How is that impacting 2020 spring gobbler seasons? Is going turkey hunting "essential"?
Several weeks ago Nebraska announced that it was not issuing any more non-resident spring turkey permits, effectively telling out-of-state hunters to stay home.
Illinois has canceled all turkey hunting on all state lands. Similarly in Washington state, wildlife areas are closed, and the spring youth turkey hunt was canceled.
The turkey-rich state of Kansas recently encouraged out-of-state hunters to stay home for the time being.
The good news is that many states, including Florida, Mississippi, Texas and Tennessee, have deemed outdoor sports like turkey hunting as "essential" activities on both public and private lands. My home Virginia (our turkey season opens this Saturday April 11) and other states specify that outdoor exercise is essential, and though not specifically stated, that includes turkey hunting.
Here's what it means. In most cases, with the exception of the state lands noted above, you are permitted and encouraged to go turkey hunting in your home state and, ideally, close to home.
The governors of at least a dozen states are discouraging interstate travel by announcing quarantine requirements for travelers or people who live there traveling home from other states.
Which means that if you were to drive across a state line one day to hunt, you could conceivably be required to quarantine there in isolation for 14 days! Obviously no hunter wants that.
So spring gobbler season 2020, which opens in April in many states and runs through mid-May, is an in-state game, and the closer you hunt to home, the safer and better.
Here's how I'm going to do it for the next 2 months:
I'm lucky to have access to a couple of farms within 20 miles of my house, and I'll hunt those exclusively.
I'll avoid road trips of 3 hours or more. While we do not live in a police state and never will, there is always a chance that an overzealous cop could pull you over and ask where you're going. It happened just yesterday in Pennsylvania. 
We all like to stop for coffee and a biscuit on the way to the woods, but avoid it this year. Most places are closed anyhow. Just make sure you have plenty of gas (wear rubber gloves at the pump and wash your hands) and bring your coffee from home.
The good news is that once you arrive to the woods, turkey hunting is a solitary sport and perfect for social distancing. Good luck.