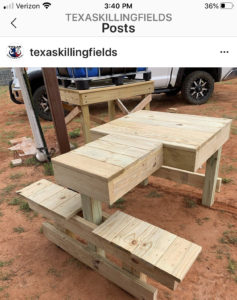 Saw this from one of our followers, Scott, on the @bigdeertv Instagram:
I have had a lot of people ask for build plans for this bench. I posted the website. The bench is made with pressure treated wood and cost me $107 dollars to make. Plans give cut measurements and detailed directions for build. Enjoy.
I know that many of you would like to build one of these on your land (if you have a safe spot for a rifle range) or out on your deer lease, so I researched it further.
I went to the blog for the build and was impressed.
First, they give you a list of tools you'll need: circular saw, drill, bits, etc.
Then, they give you a specific list of materials needed. They provide the plan (free) only, you need to go to Home Depot or Lowe's and purchase the following:
Materials needed:
–All lumber needs to be as straight and smooth as possible.
— Pressure treated wood is highly recommended. It will greatly increase the life of your shooting bench.
(1) 6x6x8'
(6) 2x6x8'
(4) 5/4 x 6×8' decking boards
2 pounds 3" deck screws. Torx (star) or square head are recommended.
1 Pound 2" deck screws. Torx (star) or square head are recommended.
Then they give you very helpful step-by-step directions and dimensions to cut each of the boards.
Finally, there's a step by step list of 13 assembly directions (with good photos and sketches) to help you each step of the way, until the finished product!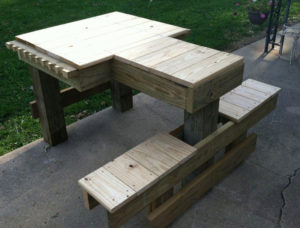 A couple additional notes:
This shooting bench can be built by one person, but a second set of hands makes it easier. Scott says his bench is pretty heavy, but 2 guys can move it easily.
Once you have the tools and materials laid out for the job, you can build your bench in a short afternoon. Scott says it took him about 30 minutes to cut all the wood, and then about 45 minutes to assemble it.
Enjoy the project and shoot straight!