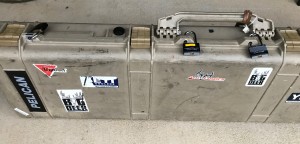 The section entitled "Traveling Requirements for Firearms" in QDMA's 2020 Whitetail Report caught my attention.
Having hunted deer and other animals in 40 states over the years, I know first-hand that "case laws" vary from state to state, and even county to county. This can be confusing, and in a worst-case scenario can get you in one hell of a jam if you don't know and follow the laws.
7 states* require rifles/shotguns/muzzleloaders to be cased (either hard or soft case) in a vehicle at all times, whether you hunting near home for the day, or driving through one state to get to another. Those states are:
Louisiana
Massachusetts
New Jersey
Illinois
Iowa
Michigan
Minnesota
Another 5 states require guns to be cased at certain times:
Mississippi (driving on or through public lands)
South Carolina (on wildlife management areas)
Virginia (public lands)
South Dakota (on an ATV)
West Virginia (before or after shooting hours)
In the same survey, I was surprised to find that 15 states allow loaded firearms in vehicles, and another 22 states allowed shells in magazines (not chamber) in vehicles.
SAFETY NOTE HERE: Wherever I hunt, no matter the state, I never get in a vehicle with round in the chamber. For example, if I'm hunting out West or in Texas (where case laws are more lenient) and get out of a truck 10 or 15 times a day to glass or stalk, I chamber a round outside of the vehicle, and unload every time I get back in the truck. Every time! I highly recommend you do the same, regardless of state law.
Referencing their survey, the QDMA has solid advice: "There is no uniform transportation procedure across states… If in doubt, (you) should always carry firearms unloaded."
Yes.
*Above lists may not be complete and firearms laws are subject to change. Counties and cities within a state might have additional ordinances. Consult specific state/local laws for transporting firearms.