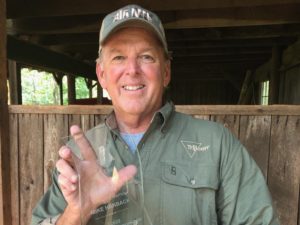 Very honored and humbled to receive this award from the professionals at QDMA. Here's the press release.—M.H.
ATHENS, GA – The Quality Deer Management Association (QDMA) is pleased to name Mike Hanback its 2020 Signpost Communicator of the Year. Hanback is a recognized and long-time outdoor writer and blogger who created and hosts Big Deer TV on the Sportsman Channel, now preparing to film its tenth season for television.
"QDMA presents this award annually to an outdoor communicator who shares accurate information with deer hunters, works to ensure a strong future for whitetails, and supports the QDMA and its mission," said Lindsay Thomas Jr., QDMA Director of Communications. "Mike has been doing all of these things for years through his writing and television talents, and the entire team at QDMA and NDA is excited to recognize Mike for all he's done for our organizations and for deer hunting."
QDMA had hoped to present the award to Hanback earlier in 2020, but the COVID-19 pandemic delayed the delivery of the news. Finally, on August 7, several members of the QDMA team surprised Mike with the news in a Zoom conference call.
"I am honored to receive this prestigious award from the QDMA," Hanback said. "These professionals are passionate about their mission of providing accurate and science-based information to deer hunters and managers. For the QDMA to recognize my writing and TV work is surely one of the highlights of my career in the outdoor industry."
For years through his writing, blogging and television show, Hanback has used qualified experts as his sources, helping provide reliable, science-based information on deer hunting and management to his large audiences of readers and viewers. He has also consistently supported QDMA, promoted its education and outreach efforts, and included QDMA information in his content. In 2019, Hanback visited QDMA National Headquarters in Georgia with his crew and filmed multiple segments for use in episodes of Big Deer TV, covering sound habitat management, hunter recruitment, and QDMA's Field to Fork program.
Hanback has also consistently stood with QDMA and NDA in helping to distribute scientific facts about chronic wasting disease (CWD), which has been found in his home state of Virginia. This has helped many hunters understand what they can do to help slow the spread of the fatal disease.
Through his social media outlets, Hanback has been active in engaging with and promoting QDMA and the NDA. He publicly expressed support for the news of the QDMA/NDA unification when it was announced in July, saying "This should be a great thing."
QDMA's Signpost Communicator of the Year Award is named after the organization's first newsletter, "The Signpost," a title that refers to the use of signpost communications among whitetails, including rubs and scrapes. Hanback joins a distinguished group of former winners, including Dan Johnson of Iowa (2018), Tony Hansen of Michigan (2016), Will Brantley of Kentucky (2015), Mark Kenyon of Michigan (2014), Scott Bestul of Minnesota (2013), Andy Whitaker of Alabama (2012), Patrick Durkin of Wisconsin (2011), Bob Humphrey of Maine (2010) and C.J. Winand of Maryland (2009).
About QDMA
QDMA is dedicated to ensuring the future of white-tailed deer, wildlife habitat and our hunting heritage. Founded in 1988, QDMA is a national nonprofit wildlife conservation organization with members in all 50 states and Canada. To learn more about QDMA, call 800-209-3337 or visit www.QDMA.com.
About NDA
The mission of the National Deer Alliance (NDA) is to serve as the guardian of wild deer conservation (white-tailed deer, mule deer, black-tailed deer, coues deer, and Key deer), and our hunting heritage. Formally incorporated in May 2015, the NDA is driven to assemble and unite a diverse group of stakeholders that includes hunters, managers, and the hunting industry to help create positive outcomes for deer and deer hunting.