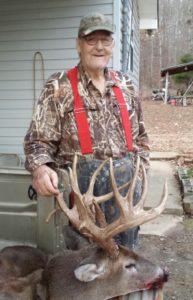 Fine guest blog from Tracy Kelsoe, who lives and hunts in Lawrence County, Alabama:
Have you ever heard of someone who would not hunt a 188" buck? Well, I'm that guy.
The reason I would not hunt the buck is because I wanted my dad, Clifton Kelsoe, who was 82 years old at the time, to take him.
We had trail came pics of this deer for 3 years. No daylight pics. Dad killed him on December 7th 2016. He shot the buck at 200 yards, not bad for an 82-year-old.
The buck had over 50" of mass. We took it to the Birmingham deer show where it took first place non-typical and third place typical. The buck's final score was 188 5/8.
Great story and what BIG DEER is all about, hunters like Tracy get my utmost respect.