Friend and long-time Big Deer blogger Dean Weimer filed this field report:
"Trace Koble started his 2020-21 Indiana deer season within the Allen County Deer Reduction Zone (DRZ) by killing the requisite doe on Sept. 15, which is the traditional beginning of the annual reduction hunts statewide.
"Koble was happy to kill his "earn-a-buck" doe so that he could then focus on the mega-buck he'd been patterning in the days leading up to Friday, Oct. 2. This is a first-look at Koble's big non-typical. The official Big Deer story is coming soon. Stay Tuned!"
As Weimer was filing that report, another archery giant hit the ground in Indiana. Dean says:
"Mike, check out Bradley Noll's archery brute below! Man, the early season has been booming with the colder-than-normal temps that ushered in October. It's warming up a bit right now, but as you can see some folks capitalized for sure!"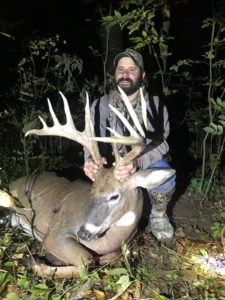 I count 12 points and see main-beam palmation on the Noll Buck, wow! We hope to bring you the story of that white-horned giant too!
Two world-class bow bucks, congrats Trace and Bradley!