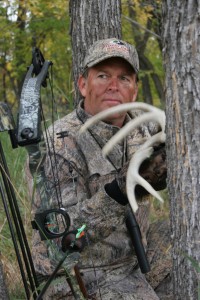 The first 2 weeks of November are the best time to rattle or call fired-up bucks. Try:
Studies show that rattling works best on cool mornings with a 10 mph wind (or less).
In a big Texas study, researchers rattled in 200 bucks over a 3-year test period. They rattled in the most bucks from 7:30-10:30 a.m.
Crash and grind the rattling horns hard for 20-40 seconds; in my experience, hard rattling works better than light tinkling.
After rattling, lay down the horns, be still and watch. Many hunters move too much and spook bucks coming in. Important!
Grunt loud and nasty—blow 5 to 10 second series of deep, gurgling grunts to mimic a rival buck tending or hunting a doe.
Mix bleating (sound like a doe in estrus) with your grunts. You never know which call will strike a buck and bring him in.