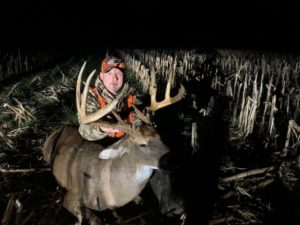 Today's great guest post is from Zach Shipley, who had the deer season of a lifetime on farm that he and his dad lease in southeast Tennessee near the Cumberland Plateau region:
Mike: I've been a die-hard whitetail hunter for 30 years and have dreamed of harvesting a true trophy buck ever since my dad got me interested in deer hunting when I was 6 years old. I've been fortunate enough to harvest several "nice" bucks over my years of hunting, but this past muzzleloader season was truly a season like no other.
I went to my stand on November 17, 2020 after working all night the night before. I sat all day and at the end of my hunt, at last shooting light, a freak nasty 11 point non-typical I call "Kicker" stepped out into the picked corn field I was hunting over.
He came within range and presented me with a good shot. I was ecstatic over the successful hunt and harvest!
I had to go back into work the following evening. After working all night again, I decided to go back to the same exact spot where I harvested "Kicker."
I started the morning of November 19 hunting over the same picked corn field. I sat there all day again, and about 30 minutes before dark a world-class main-frame 8 pointer I call "Big Mac" walked out and gave me the opportunity of a lifetime. I made the shot and connected on a true trophy buck.
I took all the measurements needed to rough score this buck and he taped just over 160," which would possibly be enough to enter him into the Boone & Crockett record club.
I scout the land that I hunt. I pay attention to the wind and only hunt spots where the wind direction is in my favor. I use cover scent and human odor scent killer. I try to do all the right things and take all the right steps in deer hunting, but I know that all the good luck that I've had is ultimately because God has blessed me.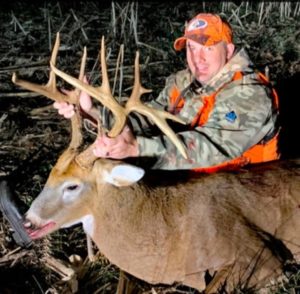 I am thankful to be able to hunt, and to have harvested every deer that I have…especially these two bucks of a lifetime, and on back-to-back hunting trips at that.—Thanks, Zach Shipley
Lesson to learn: As I have blogged here and said on my BIG DEER TV show many times, do not be afraid to go back to the same spot or stand where you or a friend shot a deer if conditions are right and the deer are moving strong there right now. This is especially true if you shoot a buck, make a clean kill and get out of there relatively quickly without tromping all over the place. My point, you don't always have to rest a stand for a week before hunting it again. Sometimes you can go back the next day, or in 2 days like Zach did, and shoot another big buck.–Hanback