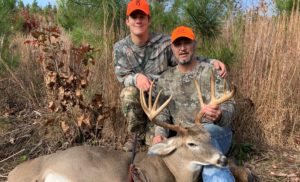 A 5% increase in new deer hunters plus more time in the woods for longtime hunters led to increased whitetail harvests in many states.
Maine: Some 33,157 deer were tagged, the highest total in 18 years.
Wisconsin: Hunters registered 188,712 deer during the 9-day gun season, up 16% from 2019. The number of bucks harvested was 85,340, compared to 75,236 last year.
Arkansas: The state reported an increase in license sales and a record-breaking harvest. Hunters checked more deer than any season since 1938, with a reported 214,022 animals and counting.
Oklahoma: All-time record license sales led to a preliminary 2020 harvest exceeding 120,000 deer.
Virginia: Hunters harvested 208,131 animals, up less than 1% from the 206,976 deer taken last year.
West Virginia: Hunter harvested some 38,776 antlered deer during the two-week buck firearms season. The 2020 buck harvest was 6 percent higher than in 2019, when hunters took 36,796 bucks. The top 10 counties by harvest were Preston (1,469), Randolph (1,428), Hampshire (1,380), Greenbrier (1,317), Pendleton (1,296), Hardy (1,169), Braxton (1,089), Grant (1,088), Pocahontas (1,082), and Jackson (1,063).
Maryland: Hunters harvested 81,729 deer during the combined archery, firearms, and muzzleloader seasons, from Sept. 11, 2020 through Feb. 3, 2021. The statewide harvest included 29,242 antlered and 49,033 antlerless white-tailed deer, plus 1,500 antlered and 1,954 antlerless sika deer. The harvest was 3% higher than the 2019-2020 total of 79,457 deer.
Tennessee: A total of 159,962 deer were harvested across the state in 2020-21 compared to 135,135 in 2019-20. It was the state's largest harvest in six years.
The increase did not come as a surprise to state wildlife officials who saw more hunters in the woods through the year as a result of COVID-19. "The hunters showed up… a lot of that was licenses sold this year that we hadn't sold in the past," said Tennessee Wildlife Resources Agency information specialist Barry Cross. "They got out and they harvested deer and hopefully we can keep this going straight on through turkey season (April 3-May 16) and straight into fishing. Not because we want to make money (off license sales), but because we want people to discover the outdoors."