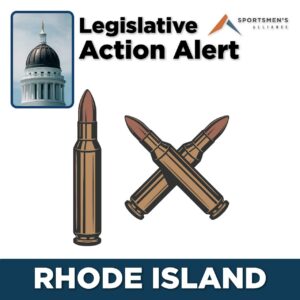 The Sportsmen's Alliance reports that "the hits keep coming in Rhode Island when it comes to hunting and firearms."
The Rhode Island House Judiciary Committee is considering legislation requiring a state or federal background check to purchase ammunition or reloading components. While the National Instant Criminal Background Check System has "instant" in its name, it can take up to three days to complete. As a result of House Bill 6616, online or mail orders for ammunition would not be possible.
"This proposal would even ban a friend or family member from borrowing ammunition during a hunting trip, unless the recipient passed a background check," said Dillon Barto, manager of state services at the Sportsmen's Alliance. "This is more bad policy that foregoes real-world issues and circumstances to push an ideology that doesn't benefit public safety in any way, shape or form."
Unfortunately for law-abiding gun owners and hunters, in the very anti-gun Joe Biden's home state, this legislation is probably going to pass.
Six states currently have laws requiring background checks to purchase ammunition, and as you might expect all are deep-blue states: New York, California, Connecticut, Illinois, Massachusetts, and New Jersey.
Click here for state laws on buying ammo.