1.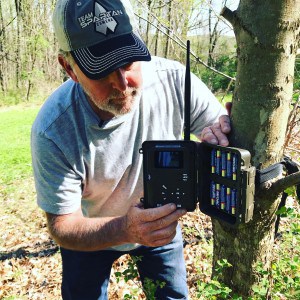 Set one or 2 cams in a small clearing in the woods 70 to 100 yards off an alfalfa, corn or soybean field or clover plot. Even before hunting season, many mature bucks hang up and stage in these areas in late afternoon before moving out to the feed after dark.
2. A bottleneck of thick cover on a deer trail that leads into a field is a good bet for a camera. A big buck will usually walk the thickest route in, and you can get a close-up image of him.
3. As you scout the woods, look funnels where two or more ditches or drainages with thick cover come together. Oak trees that drop acorns nearby make this a surefire bet for buck images.
4. "Our tens of thousands of cam photos show mature bucks regularly use thin fingers of timber with a good mix of hardwoods and evergreens–the conifers provide the deer with increased security cover," says top biologist Mick Hellickson.
5. Once you spot a big buck in a field, sneak in and set a camera on the nearest creek crossing, pond or bever pond on the property. As summer deepens, mature bucks spend a lot of time hanging out near water in shady, cool thick spots near water.