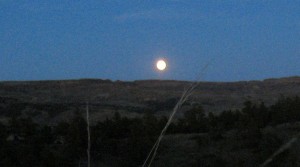 For this season I teamed up with my friends over at Outdoor Life to bring you my annual BIG DEER moon/rut-hunting guide. Click here to read the full report when planning your week to take off and hunt. Here are some highlights:
October 25: New Moon
The new moon, which this rut cycle rises on October 25 and wanes on the dark side through Halloween (zero to 47% daily illumination) deer should move most actively at daylight, with movement decreasing noticeably the rest of the day.
Halloween week…is one of my favorite times to bowhunt. This season, with the moon dark and waxing crescent for 6 days, expect to see the most does, and maybe a buck pushing a doe, from sunrise until 9:00a.m. Get settled on stand early and watch hard that first hour. The cooler the temperature, maybe a hard frost, the more deer you'll see.
November 1: First-Quarter Moon
Looking back to my notes and all the research I've done over the years, it is fact that many huge bucks are killed every season during the seeking phase of the rut the first week of November. This is a good week to take off and hunt any season.
If you've read my moon-rut guides over the years you know I regularly check in my friend and outdoor TV personality Mark Drury, a moon fanatic like me.
"November 2 to 7 could be really good this year, especially if you get cold weather," he says. If you hunt this week, Drury and I believe best your shot to see a mature buck prowling for a doe is in the afternoons when the moon will rise from 2:40 p.m. until about 5 p.m. Hunt your best stands around food sources.
November 8: Full Moon
A common misconception is that deer see better at night because it's brighter when the moon is full, but according to a study conducted at NC State they actually move less on average at night during a full moon and more during the middle of the day, and also earlier in the evenings.
"This year I think any day from November 8 through 14 could be good to great for deer movement from midmorning to early afternoon, especially if it's cold with high-pressure," said Drury. From November 9 through 11, when the moon will set from 7:30 a.m. to 9:30 a.m., he and I predict deer will move and rut best in the early mornings. You can bet I'll be camped out in a morning stand on a ridge blazed with rubs and scrapes deep in the timber. I think this will be the week this season, and you never when a mature shooter will come rutting by.
November 16: Last-Quarter Moon
If this is the only week you can get off work, don't fret. You might think it's a little late for the rut, but from a moon perspective, deer movement should be good to maybe great from November 15 through about the 20th, especially in the afternoons.
Good luck this season, send me a picture!