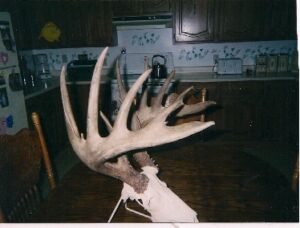 I was hunting up in Saskatchewan several years ago when a local fellow asked if I would like to go see one of the top whitetail racks in the history of hunting.
"Hell yeah!" I hollered and off we went to the small town of Debden.
I remember standing in Tiggy's kitchen and holding that amazing rack, shocked that is was just a skull mount!
Tiggy, a truck driver by trade and a nice, unassuming guy, gave me the quick version of the story. He had finished his run early one October day in 2003, so he decided to go bowhunting for a while, hoping to shoot a doe for the freezer. He wasn't in the stand long when this giant came by and Tiggy whacked it.
"Were you super excited" I asked.
"Sort of eh," Tiggy said.
There is more to the story. A few weeks passed, word of the giant buck got out and Tiggy realized what he had–one of the biggest typical bucks ever shot with a bow. He had several official scorers put a tape to the rack, and a controversy broke out.
Some scorers had the 12-point symmetrical rack scoring more than 205", which would have made it No. 1 all-time (the 204 4/8" giant that Mel Johnson shot in 1965 is still the world-record typical). Others scored it an inch or 2 lower. In the end, when the dust settled, Tiggy's Sturgeon River monster fell an inch shy of No. 1. The Collins Buck holds on to the #2 spot to this day.
The Pope and Young photo below shows the rack best.