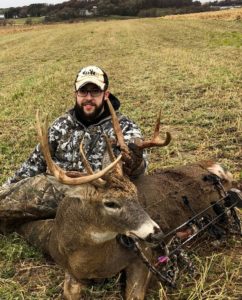 This guest post is from Kyle Biba, Wisconsin bowhunter and long-time reader of Big Deer Blog:
Saturday November 2nd proved to be a very special day for me as I was able to write the final chapter on a 4.5-year-old 10-pointer we called "Sneezy."
The story started in early fall 2018 when Sneezy first appeared on our farm. He showed up on camera in mid-September, already having broken off multiple points.
I encountered Sneezy on October 12th last year in one of our clover plots. It was at that time he gained his name of Sneezy. As I watched him, it sounded like he was having an actual sneezing attack! I was able to get some tremendous footage of him feeding and lip-curling at just 20 yards. Being a busted up 3.5-year-old buck, I elected to pass on him.
I didn't think there was any way he would make it through both bow and gun season while being such an active deer in daylight. But somehow, he made it through and ended up busting off even more points. We figured that in 2019 he would be a homebody on our farm since he hung around all winter as well.
Fast forward to the summer of 2019. I believe Sneezy was the very first buck to show up on camera on June 21st. We instantly knew he'd be a shooter, with his good brows and what looked to be a pretty nice frame on him. Sneezy stuck around for the majority of the summer and we were excited to see how he was going to finish growing for the year. He ended up adding on about 30-35″ of antler from 2018, which we were extremely excited about!
As fall approached Sneezy continued to be daylight active, and we thought we may get a chance at him in early season. That didn't happen, and we hoped and figured we would have a pretty good chance at him during the rut.
Sometime during October, he must have been involved in a couple of pretty heavy fights because he broke off one of his G3s and a G4. He remained on the hitlist, as 4.5-year-old bucks of this caliber just don't show up every day on our property.
As we got closer to the rut Sneezy was appearing in daylight all over the farm, and I had a feeling it would just be a matter of time before I had an encounter with him.
The first few days of my "rutcation" were slow and quite uneventful, so on the afternoon of November 2nd I decided it was time for a change. I headed back to a stand on the edge of a cut cornfield that I hadn't hunted in over 2 years.
It was an extremely windy afternoon, gusting to 20 mph. While walking into the stand I saw a 1.5-year-old buck cruising, and shortly after climbing up I had a buck fawn come through in front of me.
About 5:15 I noticed movement out front and watched a 2.5-year-old work his way into the bedding area I was overlooking. I filmed him for a couple minutes and was just putting my camera away when I looked down and saw Sneezy standing right there, directly downwind at 10 yards!
He never did look up into the tree but he was being extremely cautious. I was ever so careful not to move and wait for the right moment to grab my bow, stand, and draw. As he worked on the trail to my right, I stopped him at 22 yards and released the arrow. As soon it hit, he took off running and then tipped over just 50 yards from my stand. I was beyond ecstatic and started the phone calls to family, friends and my grandma!
I thank all my family and friends that support me and make these special days of bowhunting possible. I thank God for providing these beautiful creatures for me to hunt on this amazing landscape in November.
As my best friend Ed Miescke told me shortly before he passed away, "You have no idea how lucky you are." That quote brings tears to my eyes and will stick with me forever. Ed was absolutely correct. —Thanks, Kyle
Great hunting and great heartfelt story Kyle, congratulations buddy.