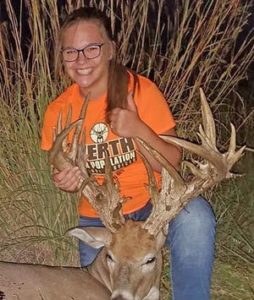 From USA Today: The youth deer hunting season in Kansas got off to a doozy of a start…
Fourteen-year-old Paslie Werth…shot a once-in-a-lifetime deer on Sept. 6 — a 40-point, free-range whitetail buck tallying a gross green score of 282 6/8 inches — while rifle hunting on family property with her father, Kurt, in Kiowa County.
When the rack is officially scored after the required 60-day drying period Paslie's buck, which father Kurt believes could net in the high 260s, will be one of the top non-typical whitetails ever shot with a firearm in Kansas.
The Sunflower State's #1 gun buck is the 280 4/8" monster killed by Joseph Waters in Shawnee County in 1987.
My friends at North American Whitetail just posted the great story of the hunt and you ought to read it.
In that post, North American Whitetail Editor in Chief Gordon Whittington points out, "Currently the top non-typical ever taken by a female hunter is the 257 1/8-inch buck shot by Jamie Remmers."
If father Kurt's instincts are  correct, Paslie's buck will be the biggest NT whitetail buck ever shot by a female hunter.