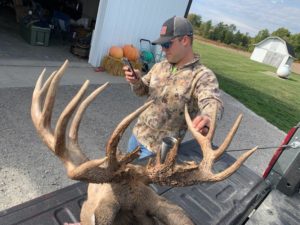 This exclusive guest blog is from BIG DEER field reporter Dean Weimer:
Trace Koble began hunting the Reduction Zone area strictly for waterfowl several years ago, but then the landowner switched from corn to soybeans and it was no longer good for ducks and geese.
In 2017 Koble decided he'd put out a ground blind on this parcel, which is mostly open fields, to see what he would see. "But I never got serious about it until last year, when every sit in the blind I would see a plethora of deer filter out of a chunk of timber and feed on the other side of the field that I had permission on," he says.
This year, Trace decided to put out some minerals and set up a trail camera to monitor the area from January through March. His recon proved there were two bucks—in a group of many—that he'd try to arrow come fall. He continued to monitor the area with the camera all summer.
On July 15, Koble and several buddies went out to brush in the blind and to hang a stand on one of the only trees on the property. He switched SD cards in the camera and headed back home.
After filtering through the card Trace discovered that one of the good bucks he'd gotten images of in the winter had blown up into a very good non-typical!
He decided to let the area rest and didn't go back to check the camera until late August. Sure enough the giant buck was in the area intermittently. Koble noticed the buck would only come to the soybeans on one side of the property during a northwest wind.
The Indiana Reduction Zone hunts, which require all archers to bag an antlerless deer before a buck (a.k.a. Earn-A-Buck) began statewide on Sept. 15. Koble successfully killed his doe on another farm within the zone.
"On September 17,  the wind was right and as I was making the half mile walk back to my stand I stopped and checked my camera," he says. "I do not know if I was more excited to see him in person at that point, or to go home and see if he had been by my stand in the past 17 days."
Although his first hunt in the area turned up no signs of the buck, Trace did have a close encounter with a good 8-pointer. He then travelled to New York to hunt geese with a friend for 5 days.
During that goose hunt far from home it dawned on Trace that he hadn't gotten any images of the buck for 20 consecutive days. He felt the deer may have moved to establish a new core area as the rut approached.
"The winds were not right until the regular archery opener on October 1. There was rain in the forecast, but I had a stiff northwest wind," Koble recalls. He was on his way to his tree stand when the rain cut loose and soaked him. Temperatures dropped significantly and he began to get chilled. He thought about heading back to his vehicle, but decided that since it was a northwest wind, he'd tough it out.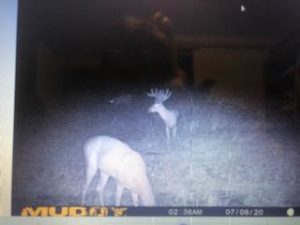 Trace grabbed the SD card again on the way out, and that evening he checked it. To his surprise and delight the giant had shown up not once but twice while he was in New York! He also noticed that both times the wind was once again out of the northwest.
On September 27—the day he returned from New York—the buck had walked past the camera with a doe at 7:23 p.m.
The stage was set for October 2. Trace was unsure if he should go right back to the spot, because he didn't want to burn it out. After talking with his brother and a buddy he decided he'd risk it.
After work that afternoon Koble sped home to get ready. "I repeated everything from days prior except swap out camera cards," he says. "I thought I needed to change something up and maybe something would happen."
On his way in, Trace walked past a fresh ground scrape that was dug deep and thought to himself, He's in here.
He saw some does early, and a couple of small bucks walked past his stand. But no sign of the big boy.
At the last hour of legal light things started looking up. "I had 3 does come out of the timber at 80 yards and feed right past me—upwind—around 7:10 p.m," Trace says. "They had no clue I was there. I thought to myself about the photo I got of the big buck at 7:23 p.m. just 5 days prior."
At 7:20, as Trace was revisiting the buck in his mind, the giant stepped out of the timber. The animal had a green thorny branch stuck in his right antler as he slowly worked his way out into the field. Koble looked at him through his binoculars in awe.
"He fed in the soybeans for five minutes and I was beginning to think that he would not get within a comfortable range for me to shoot until after legal shooting time," the Indiana hunter remembers.
Then the buck began to walk towards the waiting archer. At 30 yards the deer started making a scrape, and put his hind legs together to rub-urinated in it!
Koble grabbed his bow, then froze. Six does walked by downwind. He had his Ozonics out, and none of the deer winded him.
The buck rubbed a tree about 20 yards out, then continued toward the hunter. "I can still hear the air working in and out of his nose as he smelled the air where the does had just walked past," Trace says.
The buck kept coming, and at 10 yards stepped into a small shooting lane. Trace released the arrow. The buck bore through the waist-high soybeans and ran back toward the timber.
"He stopped just before heading in, my arrow still in him with a red lighted nock shining like brake lights in a traffic jam," the hunter recalls. "I was at a loss for words, he did not go down. All I could think is that I hit him (too far) back. I looked at my phone—it was 7:30."
Koble called his brother to relate the news. Unfortunately, they didn't have permission to go in after him in the timber. At this point it was too late and he didn't want to bother the landowner.
"We found what blood we could, but it stopped short of the wood line," Trace says. "I was a mess, we had to back out until morning. It is true when people say you will have a sleepless night waiting to go in after a buck the next morning!"
A million thoughts—many of them negative—ran through Koble's mind that sleepless night. In the morning he contacted a local kennel that specializes in deer recoveries.
Trace, his brother, Lane; his wife, Lyndsey; his buddy, Tim; the dog owner, Andrew, and tracking dog, Legacy, arrived at 8:00 a.m. the next morning. But at this point they still didn't have permission to enter the neighbor's property.
"As we were coming up with a game plan the landowner finally called me back and we got the go ahead," Trace says. "Andrew put Legacy to work right away. After a short time tracking he decided we should spread out because the dog was not picking up on anything and there was not much to go on."
They spread out and pushed on. Ten minutes later Legacy winded something and made a beeline towards Lindsey's location. About the same time Lindsey yelled out that she had found something.
"I was about 100 yards away when I heard her yell, but could not make out what she said," says Trace. "At that point I had gotten pretty down on myself, and that faint sound of positivity raised my spirits instantly. I ran toward her, passing Lane and asking, What did she say!?"
Koble finally saw the deer. The buck's body had been terribly ravaged by coyotes in the night, but the rack, head and cape were still fairly intact. He realized quickly that there was not ground shrinkage with this buck.
Trace sums up the experience nicely, saying, "I can honestly say that I patterned my first mature buck. I knew what he was when I saw him in the trail camera photos, but I never imagined being able to put my hands on him."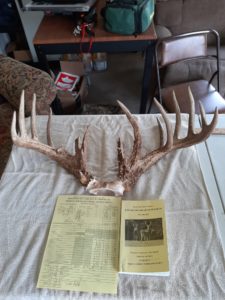 I green-scored the  buck a few weeks ago at 198 1/8 Non-Typical. The buck has a solid 5X6 typical frame, with 8 non-typical tines that tally nearly 40 inches.
Congratulations to Trace for a job well done!—D.W.