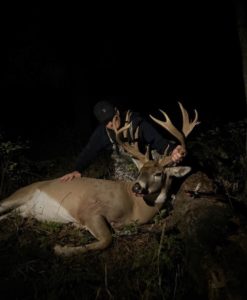 Today's great guest blog by Kansas bowhunter and whitetail fanatic Cody Larrimore:
The word "friend" is used in everyday life to describe all sorts of people. However, for the purpose of this story, it should be said from the beginning that when I reference my "friends," they are not your average ones. They are 4 selfless individuals whose generosity gave me the opportunity at something I only ever dreamed of; something they all personally wanted and something every whitetail hunter wants – a legendary giant. This three-year journey would not have been possible without their support, outrageous generosity, and most of all, friendship.
I moved to Kansas in 2017 specifically to pursue whitetails. I left behind everyone I knew including all of my family and lifelong friends to follow a dream I'd had since I started bowhunting at 12 years old. I took a leap of faith and it's paid off in multiple ways.
In less than a year, I was fortunate enough to be managing roughly 2,000 acres of prime hunting land split between several properties. The entire management process captivates me: finding a deer worth chasing, helping it reach its potential by using various types of minerals, supplements, and food plots; learning the nuances of each individual deer; patterning it throughout the season; and managing the age structure and land specifically for optimal deer hunting.
In July of 2018, I was able to persuade a neighboring farmer to let me hang some cameras on his land. It's important to note that all I had asked for was permission to hang cameras. This piece of ground is about 600 acres and it hadn't been hunted in years.
This is where the story of Athos begins.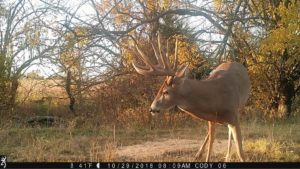 After receiving permission, I studied the property using the HuntStand app, which allowed me to utilize their tools to help identify pinch points; find and measure travel corridors; pick locations to hang cameras; and to share the property details with my friends in the group. I had low expectations because cattle were only recently pulled from the area.
As it turns out, the first picture I got was a deer we would later name "Athos," the giant from Greek mythology.
It wasn't long before Athos became a regular to the bait site, and after hanging more Browning cameras, I was able to hone in on his bedding and core area. This caliber buck is the sole reason I moved to Kansas. You might be thinking Game Time for me, right? No. As promised, I showed the landowner this incredible buck, and he got excited and wanted to hunt him exclusively.
That was fine with me. It's his ground, so his deer. I was just thrilled to have a buck of this caliber on camera! We made a deal that he would only hunt him if I were there to film.
The first year the farmer was only able to hunt for the buck one time due to his hectic schedule. No luck. He was too busy the rest of the year. Throughout the remainder of the year, I received thousands of pictures of Athos, mostly in daylight, and I was eager to search for his sheds the following spring.
Shed hunting has become an integral part of the management process for me. Some folks collect coins, art, or Christmas Santa's; I collect sheds. I believe that each one tells an important part of the story, that you can learn a lot about an individual deer from his sheds, and that finding them gets you one step closer in the ultimate chess match.
At this point it's necessary to introduce you to some of my best friends, Craig and his wife, Alexx. I had only known Craig and Alexx for about a year. We met the previous spring when another one of my best friends, Nick (who lives in North Carolina) and I were in Florida. Nick was trying to harvest his first Osceola Turkey and I was his cameraman.
Nick and I had never met, nor spoken to Craig or Alexx on the phone prior to this trip. Upon meeting them, Craig was generous enough to let us hunt several of his properties while asking nothing in return except to respect the ground. We found success a day later. Realizing we were all extremely passionate hunters we became friends quickly.
I invited them to put in for a Kansas whitetail tag, and if he and Alexx were selected, for them to stay and hunt with us that fall. It's the least I could do after he displayed such generosity while Nick and I were in Florida. A few short months later, he and Alexx were both selected!
They flew out to Kansas in October, and Craig was able to harvest his largest whitetail to date. Alexx wasn't as fortunate, so they came back a second time in December to try her luck again. During both trips, Craig and Alexx were the most grateful and appreciative hunters I've ever met, hands-down.
Fast forward 3 months to Shed Rally 2019, which is a contest hosted by Whitetail Properties. Craig and Alexx now have a 2-year-old daughter and a 1-month-old son. Despite knowing how tough the next few days would be in terms of weather and how far we would be walking; Craig, running on very little sleep from managing a newborn, took a redeye flight (6 hours) Friday evening after work, and was in Kansas for the start of Shed Rally 2019 Saturday morning.
Because I wanted to find Athos' antlers, Craig walked over 20+ miles with me in two days, in 40+ mph wind gusts, rain, freezing temperatures, and knee-deep mud. After enduring all of that, we finally found the antlers we were after! Correction, he found them, both sides actually!
To sum up the character of this man, I offered him the antlers but he refused to take them. These were the largest antlers he and I have ever held in our hands, scoring 191" (with an estimated 17.5" spread). He didn't even consider the offer to take them home.
Craig's passion, dedication, and true sportsmanship deserved to be recognized in this community, and it was. He was selected as the overall Shed Rally 2019 Grand Prize Winner.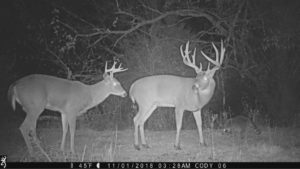 I didn't get Athos on camera again until mid-October that fall, the same as the year before because of the cattle. His rack had lost some width, but he'd put on significant mass. And, just like the year before, the landowner was too busy to hunt.
It's difficult to describe my level of anticipation and nerves each time I pulled a camera card on that property. Hoping that I'd see him, that he was sticking around week after week, while not being able to chase this giant deer drove me crazy!
Obviously, the goal for Shed Rally 2020 was the same as the year before–findings Athos's sheds! We had a larger crew last year, and searched for more than 40 hours, logging an absurd amount of miles – we didn't find either side. To make matters worse, Athos had seemingly disappeared before the end of last season. Worse even still, during the shed hunt, Nick found a skull not more than 100 yards from where Craig found his sheds the prior year with antlers cut off. As you can imagine, I was very nervous leading up to 2020's summer growing season with many questions looming. Had Athos died? Did someone poach him from the road? Did he leave?
All of these questions were answered on July 4th when my Browning camera caught the first glimpse of the buck for 2020. Not only was he alive, he was back and shaping up to be his largest self yet!
With the excitement of knowing the deer was still alive and having him back on camera, the farmer and I both agreed that this was the year; that we had to go after him once the season opened.
He was excited, and I was like a kid in a candy store!
For the first time, we were able to watch the buck progress throughout the entire growing season. I was very careful not to spook him or alert him in anyway – this was the year it had to happen. I couldn't push him off the property now! I did my routine card pulls only with the proper wind direction and at the right time of the day based on the camera location and activity. I kept the pressure on the property to a minimum and I used specific minerals and attractants from Anilogics that I knew he enjoyed in previous years.
My friends and I watched him grow week after week. It became an addiction (more so than in years past, believe it or not) and I became obsessed. His antler growth was astonishing. His dominance over the others in his bachelor group was clear, and he dwarfed every other buck in sight.
Although his core area was relatively small, we were told that a neighbor found one of his sheds during planting season the previous spring and had shared photos with many others. I had done my best to keep this deer a secret for several years, but I ultimately knew it was just a matter of time before others in the area would know about him.
After talking to my friends, we decided that if the landowner hadn't harvested this deer by the time they all came out for our annual "deer camp week" we would approach him with an offer for one of them to hunt him.
At the start of the 2020 youth rifle season, Athos disappeared but showed back up about 10 days later with his velvet gone. Athos went from being a giant whitetail, to an absolute once in a lifetime deer, a dream; a legend. I never once believed or thought I would have a buck like this on camera just three years after moving here. Athos has captivated my mind since the first picture over two years ago, actually causing me to lose sleep on more than one occasion. The chance to see a deer like Athos is the sole reason I left everything and began this quest. Watching him progress and live for three years is simply something I could never have dreamed of – something out of a hunter's fairy tale.
As promised, I alerted the landowner when I received the first picture of him in daylight, during the regular archery season. Once he pulled his cattle, I went in and adjusted the blind setup, and the chase was on! The plan was to wait for my first daylight photo of him, back near his usual bedroom. Once this happened, we would hunt him the first available cold front or right wind direction.
The picture came, the cold front moved in, and the landowner simply couldn't find the time to hunt. I checked the card days later, and the buck was there! I wasn't devastated, but nearly so. Everything we needed to happen had happened.
A week later, I reached out to the landowner again because there was yet another cold front in the forecast. He replied saying, "If you can make me a good enough offer, he's yours. I'm going to be busy with harvest."
The next morning, we agreed on a deal. While leaving the landowner's home, I messaged Craig letting him know what was decided and told him that I needed a minute to think about how I could get him and Alexx out here ASAP to go after the buck.
Craig responded moments later, "Nothing to think about. All of us have already spoken and made a decision. We are taking care of everything, and you are hunting Athos. We all agree it means more to all of us to have you shoot him then it would for anyone else. We actually won't accept any other offer at all. It would mean the world for us to see you close this chapter the way it always needed to happen. Everyone knows deep down this is the way it has always had to play out. The story cannot have an asterisk next to it."
Still, while I am writing this, I don't know how to put into words what this meant and continues to mean to me. It is a gesture that is 100% selfless, pure, and one that I will spend the rest of my life trying to repay. How do you put into words the emotions you feel when your friends gift you your dream? Would you know it's happening if it happened to you?
To a lot of people my dream may seem silly. Certainly, there are more important things in life than a huge deer, right? Call me strange, call it whatever you'd like, but deer hunting has made me who I am. It's my world, and I'll forever be grateful to this sport, the friendships that have grown from it, and the opportunities it's provided.
Emotions aside, it was go time! Except, there was a problem. I hadn't actually hunted whitetails in two years! After I saw the satisfaction of putting a youth hunter on a giant 160" whitetail while capturing every moment of the hunt on camera, I've been more excited about filming, so much so that I sold my bow seasons ago. In fact, I tried picking up a bow this past turkey season and I ended up shooting a barbwire fence no more than 5 feet away. Welcome back to bowhunting, Cody!
This is where the story begins to come full circle. Being the generous person that he is, Craig overnighted the Mathews bow, along with some Sitka camouflage and other gear he'd won as winner of the Shed Rally. This is one of the wildest parts to this whole story. I would be hunting Athos in the gear Craig won after finding the buck's sheds two years earlier! After a quick trip to an archery shop, the bow was set up and after several evenings of practice, I was ready.
Another one of my best friends who lives here in Kansas, Marc, agreed to video for me so I could focus on the hunt. After two unsuccessful trips, another large cold front was in the forecast and I knew I needed to take advantage of it, even though Marc wasn't available that evening.
The cold front took effect, the Drury Outdoors DeerCast app was on point, and deer were on their feet early on October 23rd. While walking into the blind I watched as two smaller bucks moved across the field in front of me. Fortunately, when they spooked off, they ran in the best direction possible. Unfortunately, after I took a few more steps, I noticed a giant rack staring right at me, 15 yards from the blind! I was able to grab my binoculars and identify the buck – not Athos, but a solid 165" deer. The 5- minute staring contest eventually ended with his white tail raised, and him blowing and taking off in the direction I was expecting Athos to come from. I thought the hunt was over before it began.
Despite my pessimism, there was plenty of action with smaller bucks and does during the evening. While it was an enjoyable hunt, the deer I was after continued to elude me. I decided to pack up my equipment, load my bag, and began to close blind windows so I could slip out before anything else showed after shooting light.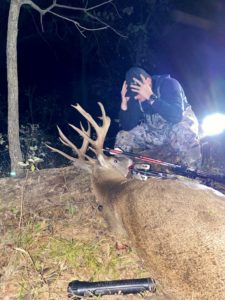 Midway through closing the last window, I noticed movement from the direction the 165-inch spooked earlier, the direction I had always assumed Athos would come from.
I caught a glimpse of antlers and within a millisecond, I knew without a doubt which deer it was. I didn't have the luxury of admiring him, I didn't try to get my binoculars to double check – there was no doubt in my mind which deer was working its way towards me. I had no time to think, only react. I pulled the bag off my back, sat down, and quickly began to unpack my camera gear. Tripod up, camera out; opened, on; facing the direction I knew he would pass through; record. I grabbed the Mathews bow, loaded an arrow, got the release out of my pocket and hooked on the d-loop.
At 27 yards, the buck heard me draw, picked his head up and looked toward the blind. For the first time in 3 years, I was able to finally lay my eyes on Athos. With the light fading fast, I took an extra second to confirm that my peep sight and anchor point were in position. I squeezed off the shot and saw the red lighted nock find home.
I've seen numerous TV shows where the hunter speaks of how bittersweet it is when you finally catch up to the deer you've been chasing for so long. I can now say it's a feeling that is both one of happiness and sadness. Bittersweet, might actually be the perfect word to describe the feeling.
I was able to catch up to Athos on the night of October 23rd, 2020, laying my eyes on him for the first time in person, but also the last. Bittersweet, for sure.—Cody Larrimore
Postscript: According the Buckmasters scorecard, Athos's rack scored 205 7/8. It has 15 points and 8-inch bases.
Great job Cody! Your passion for whitetails and respect for good friends soars through in your story of Athos.—M.H.