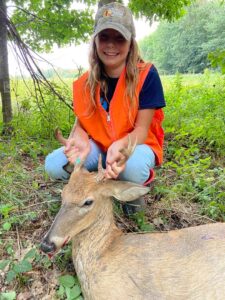 Today's great guest blog from our friend Scott Geurink. This is raising them right to love and appreciate our lifestyle:
Hi Mike: Our recent youth hunt was a success! My 11- year-old twin girls, Alli and Laci, were both able to take a buck in just over an hour of each other!
This was their second year of hunting deer. Last year Laci was shot a spike for her first deer, and Alli got 2 does. This year, both girls agreed the night before the hunt that they were looking for a 6-point or bigger.
We hunt in an area of Michigan that has an Antler Point Restriction (APR) of 4 points or more on at least one side; however there is no APR for youth so they are free to shoot whatever they are happy with. The APR has really made a difference in buck quality the last few years so I'm happy we have it. I'm also happy it doesn't apply to the youth hunt, so kids have a better chance of shooting their first bucks and keep them excited about getting out in the woods.
Saturday was very warm, around 80 degrees so I wasn't sure if we would see much moving. We headed out to the woods that afternoon and got to the stands around 5 pm. Laci and I hunted together on the south side of our swamp, and Alli sat with my dad Russ on the north side of the property on a food plot.
We had been sitting about 10 minutes when a 6-point popped out of the woods and into the potato field with 5 does. They were about 200 yards away from Laci and me. We kept our eyes on him in case he got into the 100-yard range.
About a half hour later I spotted 2 big bucks walking in the thick part of our woods, heading into the grassy swamp. A few minutes later 2 other bucks followed them into the thick stuff. I told Laci to keep an eye out because one of them could show up near us at any time.
About 20 minutes later a 7-point popped out of the tall swamp grass about 70 yards away behind some trees. He started walking toward a shooting lane, and when he got to the opening, I gave a grunt. The buck stopped. Laci took the shot and put the deer down with my wife's .308. I don't know who was shaking more, Laci or me!
We walked up to the buck a few minutes later and celebrated with a hug. It was a nice basket 8-point that had gotten busted up.
We dressed the deer out and dragged it to the edge of the woods so I could pick it up with the quad later. We walked back to the truck and were planning to hang out there until dark so we didn't mess up Alli's hunt.
While we were at the truck Dad and Alli were having action. A doe walked around in the tall bedding cover we had created right next to our clover plot. All of a sudden, a big buck shows up. He got into the open clover plot and did a button hook back into the tall bedding. Before he could fully disappear into the cover both Dad and Alli let out a couple of loud grunts. The buck stopped about 70 yards away, and Alli took the shot with my .243. Dropped him right in his tracks! It was a nice 20-inch-wide wide 10-point with a busted G2.
Laci and I heard the shot, and a minute later I got the text big buck down! All right!  We took the quad out and recovered Laci's deer, and then headed over to the food plot to see Alli's buck. I don't know who looked more excited, Dad or Alli. Both of them wore big smiles, and Dad said he was shaking just as bad as Alli was.
I gave Dad a fist bump and Alli a big hug. We loaded them up and went back to the lodge to celebrate. It was a great evening and awesome to have 3 generations of us hunting together successfully.—Scott G.
Post note: Scott notes that both girls used Hornady Custom Lite reduced recoil ammunition. "It's been a really good round for the kids and does a great job on deer," Scott says.