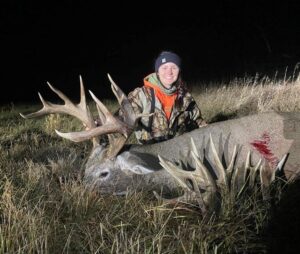 I met Saskatchewan farmer Oneil Baillargeon on a hunt up North several years ago, and immediately knew the guy was a great hunter. It runs in the family.
Oneil and his wife, Taylor, watched this tremendous buck for years and hunted his sheds every spring near their farm. A few days ago their history with the animal came to an end. "Sad but good," said Oneil. The buck walked by Taylor's blind at 25 yards and she smoked him with a muzzleloader. The 7.5-year-old whitetail had a thick rack with 13 scorable points. The rack was going downhill, but it still scored 168.
BTW, this girl is a killer of big deer. Check out Taylor's 2020 buck pictured below.