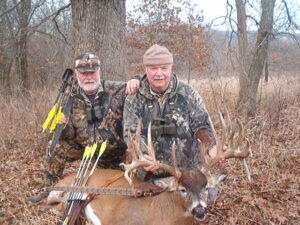 I ran across an article written by legendary bowhunter Gene Wensel, whom I have long admired for his knowledge of the whitetail, his fine writing and most of all his genuine and deep-felt love of the outdoors and hunting.
This passage is from from the story of Woody, the giant buck that Gene shot on December 30, 2004 (that's Gene in the foreground of the photo and his brother Barry in the back). The 222" non-typical is likely the highest-scoring whitetail ever killed with a recurve bow, arrow and broadhead. Gene wrote:
"Hunting is a basic human instinct no different from eating, breathing, sleeping or reproducing. Every human is born with an instinct to hunt. I heard someone say that if he harvested a giant non-typical (like Woody) he would give up hunting because he would have done it all. I know others who have in fact given up hunting for whatever reason. I can't help but wonder if they ever really loved it in the first place.
I'm fairly certain I've now taken the biggest buck of my life. At 60 years old, I'm down past a quarter of a tank. Many people have referred to Woody as the buck of a lifetime, whereas in reality he is probably the buck of 50 or 100 lifetimes. I'm not only grateful for the opportunity and outcome, but also thankful for close friends who share the passion, an understanding wife and family, and a twin brother who shares my love of the outdoors with me. I'm a lucky and blessed guy. "