I knew Indiana produced some giant whitetails every season. But when I read that the Hoosier State was Number 1 for Boone and Crockett racks in 2019 and 2020 (2021 stats not out yet) I had to go out there and ride around and talk to guys about the giant deer they've shot in recent years. So last week the BIG DEER TV crew and I set out on a big-buck road trip.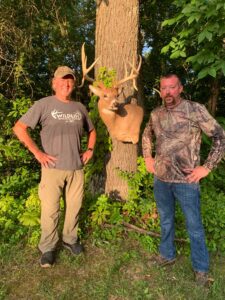 First stop southern Indiana to see Sam Tolbert and the 202" drop tine buck he shot on his family's farm.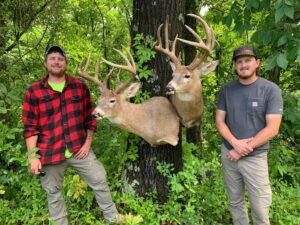 Then over to see Cole and Clay Holmstrom, brothers who own a landscaping business together, and in their spare time farm their land together for big deer. And they literally hunt together, in climbing stands 5 or 10 yards apart. That's how they killed these giants above, Clay's 190" (right) and Cole's 170-class 9-pointer.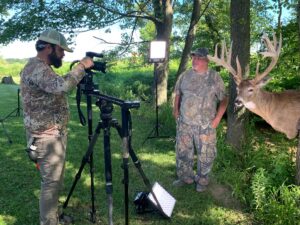 Then we drove 6 hours north and east to the little town of Winchester, a community set smack in the middle of gigantic corn and bean fields, separated with strips of woods, shelterbelts and creek bottoms. Can you say perfect whitetail habitat? "We live and hunt smack in the middle of a giant food plot," says Randy Hunter, who in 2019 shot a massive 220" buck some of the locals had named Ivory. Randy's story was great here on the blog, and even better when he told it on TV.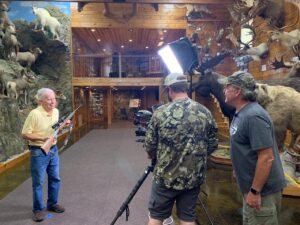 As I was tooling down a rural road near Bloomfield, Indiana, I saw a beautiful sculpture of a wild sheep and the sign "Craig's Wildlife Museum. "I did a lot of mountain hunting for sheep and elk back in the day, so of course I had to stop in. When I met Jim Craig and saw all his trophies and heard his stories of decades of big game hunting in the wilds of North America I was blown away.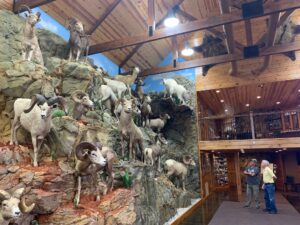 Over the course of his hunting career, Mr. Craig has 7 wild sheep grand slams! Count 'em, 7! That's right up there with the most of any man in the world. As the cameras rolled and Jim told me his story of hunting sheep and other game in the wildest places in America and Canada, he casually dropped this bomb: "In 1994, I had killed a sheep, and as we gutted it and got ready to pack out, I got attacked by a grizzly."
Tell me more! I said.
Jim recounted that the bear had repeatedly tossed him around in the rocks like a rag doll while his companions threw rocks at the bear to distract it. The griz would bluff charge the others, then come back to Jim and attack again and again. Finally, a young girl with the group, packing a .338, kept her cool and shot the bear off Jim. She had to shoot it several times before it rolled off Jim and died.
After a helicopter evac, Jim spent a lot of time in the hospital recovering. The very next fall, he limped up a mountain in British Columbia and shot another ram!
"How did that bear attack affect you?" I asked.
"I just feel like it's part of the sport, always a possibility when you hunt in wild places," Jim said.
You can catch Mr. Craig's amazing story, along with the tales of several giant bucks on a new episode of BIG DEER TV later this fall.
Epilogue: While I was in Indiana, I got to put my hands on these massive 200-class sheds. One of the hunters we interviewed has been hunting this monster and hopes to get him this fall.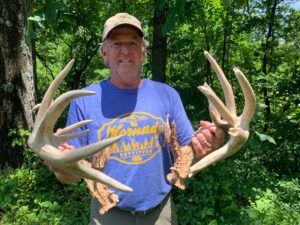 .