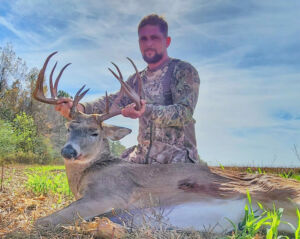 Read on and find out about the craziest whitetail of the 2022 season!
From Georgia Outdoor News:
On November 9, 2022 Justin Buchanan put the crosshairs on the shoulder of the biggest deer he had ever seen in his life and fired. The .270 slug found its mark, hitting the animal right behind its shoulder for a double lung shot
"When we got to the deer, I looked at the glands on the back of its legs and they were just white," Justin said. "The glands had no color or smell. It had three little dried-up pieces of velvet stuck to the antlers, but the rest of the rack was hardened."
As he skinned the deer, Justin could not find any trace of male organs whatsoever except of course for the huge 14-point rack, which scored 160 inches.
Read on to find out what Georgia's chief deer biologist makes of Justin's deer. (Hint:  Charlie Killmaster suspects the deer was a hermaphrodite, meaning it had both male and female sex organs which had possibly developed internally and were not readily visible).