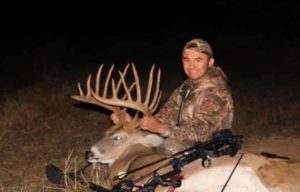 This photo is bombing around social media, for obvious reasons.
The Sportsman Channel's Twitter reads: Absolute giant taken down in Oklahoma, possible new typical state record. Could this be close to the World Record? 
A beautiful and amazing typical that I believe will net 200.
State record? Likely.
Eclipse the Hanson Buck, which has held the top typical spot for more than 2 decades? I have seen and put my hands on Milo's deer, and I don't believe this Oklahoma deer will top it, but…
If anybody knows the hunter and has more details, let me know. I'll be in Oklahoma in early December and would love to interview him and feature that amazing rack on Big Deer TV.
I'll keep digging for more details on this stunning typical deer.
UPDATE: Sportsman Channel reports that hunter's name is Gunner Womack, and unofficial gross score of the 8×8 giant is 214 inches.