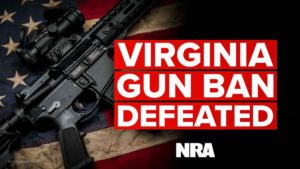 Finally, some good news from my home state.
In a statement the NRA said:
Thanks to Second Amendment supporters around the Commonwealth ceaselessly voicing their opposition to a sweeping gun ban, the Senate Judiciary Committee voted 10-5 to reject House Bill 961 on February 17th. Bloomberg's House majority in the General Assembly is not going to deliver their most coveted agenda item to their billionaire master.
House Bill 961 was a comprehensive ban on many commonly-owned semi-automatic firearms, suppressors, and standard capacity magazines. The original bill sought to impose a licensing and registration scheme for citizens who wish to keep affected firearms they lawfully owned prior to the ban, with felony penalties for noncompliance. It also broadly banned any part that could be used to change a firearm into a banned configuration. While the House Public Safety Committee amended the bill to allow citizens to keep currently owned firearms and suppressors, there was no option for citizens to keep their lawfully acquired magazines with capacities greater than twelve rounds, forcing millions of Virginians to dispose of their property, become a criminal, or surrender them to the government.
Shout out to the 4 Democrats — Sens. R. Creigh Deeds (Bath), John S. Edwards (Roanoke), Chap Petersen (Fairfax City) and Scott A. Surovell (Fairfax) — who sided with committee Republicans to reject the so-called "assault weapons" bill.
Some personal backstory. I was born and raised shooting and hunting in the old South Virginia, and for decades we were God-fearing, gun-loving, patriotic red-state conservatives. But then some 20 years ago came a string of mostly liberal Democrat governors, including the election of Ralph Northam in 2017. This the same Ralph Northam who in his 1984 medical school yearbook appeared in either blackface or KKK robe, he could not recall which. LOL.
What saved us law-abiding gun owners for years was the Virginia Legislature, which was solidly pro-gun conservative and Republican. But then in 2019, voters flipped both the state house and senate to blue.
It didn't happen by chance, but was part of a coordinated effort to buy liberal anti-gun votes, supported by no other than former New York governor and America's Number One gun-grabber, Michael Bloomberg.
Just as Mike is trying to buy the 2020 presidential election, he helped buy the 2019 Virginia elections, spending millions to help elect anti-gun state senators and representatives, mostly from the increasingly liberal Washington D.C., Richmond and Hampton suburbs.
Unfortunately it worked, and the gun-grabbers didn't waste any time. Upon taking control of both houses in January 2020, Northam and the Democrats rammed through 7 gun-control bills, 2 of which I see as clearly unconstitutional: creation of a "red flag" law under which authorities can temporarily seize firearms from someone deemed a threat to himself or others; and limiting handgun purchases to one per month (as a law-abiding American with no criminal record, you should be able to purchase as many firearms as you want).
But finally, the Virginia Senate Judiciary Committee stepped up and said enough is enough, at least for now.
State Senator Amanda Chase, gun-carrying Republican who will run for governor in 2021, told Fox News, "(Bloomberg) spent  $2.5 million in Virginia elections. Compare that to the NRA that only spent $300,000. Bloomberg is interested in restricting law-abiding citizens' ability to protect themselves, disarming law-abiding citizens.
"I have Republicans, Democrats, and independents reaching out to my office to say 'What in the world is going on?'
"He can take his money and he can keep it in New York."
Senator Chase went on to speak for tens of thousands of lawful gun owners, saying, "Virginia doesn't want (Bloomberg's) money. He's already tried to 'New York' Virginia and we're done. We don't like it all and that's going to happen across the country."
While the Senate shooting down HB 961 is by far the highlight, a couple of other positive things have come about as the liberal Democrats try to destroy our Second Amendment rights.
As I post this, at least 110 cities and counties in Virginia have passed Second Amendment Sanctuary resolutions.
Virginia's gun sales are near a 30-year high, and that will only continue to increase not only here but across America as Bloomberg tries to buy the 2020 presidential election.
While law-abiding Virginia gun owners won this battle, we cannot take our eye off which is clearly a war. A spokesman for Northam said the governor was "disappointed" in the defeat of HB 961, but "we will be back next year."
Patriots in Virginia and across America must stay vigilant and vote!