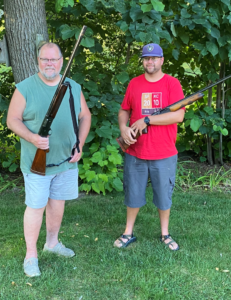 Today's guest blog from Gary Guth, who has stuck with me on the BIG DEER BLOG for many years:
Mike, 5 years ago you shared a story on your blog of a Browning A-5 that used to be my dad's and eventually came back to me through a friend. It was an awesome story, and I know it touched a spot in your heart as well as mine.
Well, here's a similar story.
Last month I was approached by a friend that asked if I was interested in buying a shotgun. Not just any ordinary shotgun, it was a Remington Model 58!
Little background to this gun. It used to belong to my wife's first husband, Scott, who passed away from cancer. I heard the story of this gun through Drew my stepson, who was always frustrated that mom sold the gun. After he passed, she sold it to Scott's best friend and hunting buddy Jim.
A number of years later Jim passed and all his guns went to his son, Pat. Pat knew that the Model 58 used to be Scott's, so he asked me a couple months ago if I was interested in buying it back for what they paid for it years earlier.
My answer was YES without hesitation! My plan all along was to surprise Drew with it. That shotgun was not only his dad's, but also the first gun he had hunted with.
We were able to give The Model 58 back to Drew this past Thursday night here at our house. Drew and his family live over 1,000 miles away, so we had to plan this when they drove back to town, which they recently did.
The picture is of Drew and me holding the shotguns that used to be our fathers'. Thanks again, Gary G.
About the Remington Model 58: Also known as the Sportsman 58, this semi-automatic shotgun was manufactured by Remington Arms in the mid-20th century. It was Remington's first gas operated shotgun. The Model 58 was built in 12, 16, and 20 gauge from 1956 to 1963, until it was replaced by the popular Model 1100.–M.H.