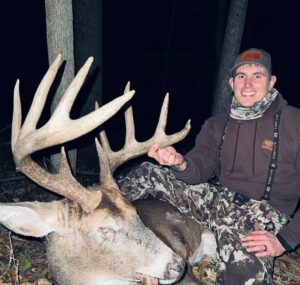 Zach and Ellie Atkins are our favorite hunting couple. Zach reported in with this great news:
Well Mike, yesterday afternoon I got it done. 27 days it took and I finally got it done. Best early birthday present ever! This buck was my #1 hit lister. We named him "Scar" because he doesn't have a right eye, the whole eye is missing.
I got in the stand around 12:00 and this bad boy was out in the field dogging a doe about 100 yards away. He started working my way so I got everything ready to go. Then all of a sudden he started to turn the doe away from me. I thought, "Oh hell no!" Grabbed my bow, climbed down, ran about 35 yards to the edge of the field and hid behind a big oak tree. Once I got there I looked to see where he was and low and behold, he turned and pushed the doe right toward me!
I hurried and pulled my bow back and waited. He was so close, let me just say this, if I didn't pull my bow back he would have hit my arrow! 3 steps! I shot and he ran 10 yards and died 5 steps later. Craziest hunt ever on a True Mega!–Zach