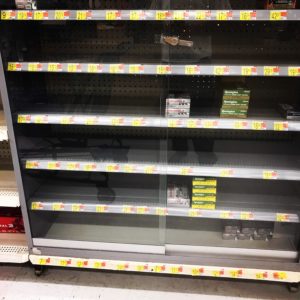 Photo is from a Walmart in Virginia, two weeks before the gun deer season. Other than a few boxes of .300 Win. Mag. (we don't shoot a lot of whitetails with the .300 Mag. around here, lol) the shelves were pretty much bare.
There were 2 lonely boxes of Winchester 165-grainers for .30-06, a fine round that many Virginia hunters do use. I'd have scooped them up, but I have a good stash of .30-06 at home.
Sure they are long gone by now.
The ammo shortage of 2020 is real and widespread across America, worse in some places than others, right before the start of gun deer seasons.
I asked followers on Twitter if ammo was scarce where they live and hunt. I learned supplies are tight in:
Illinois, Oklahoma, Georgia, Texas, New York, Tennessee, Pennsylvania, North Carolina, Delaware, Kentucky, Michigan, South Carolina, Alabama, Indiana, West Virginia Mississippi, Arkansas, Wisconsin…
Some states have a one or two box of ammo purchase limit.
A perfect storm of events got us here:
A surge of panic-buying (both guns and ammo) in March as COVID hit.
Another surge in May at the height of the George Floyd protests.
The summer riots and nonsense calls to defund the police. Purchases of both guns and ammo surged a third time as longtime gun owners and record numbers of new shooters prepped to defend their homes.
Due to the ongoing pandemic, delays in ammunition manufacturing. Suppliers have been operating at reduced capacity or others shut down completely for a while.
Awhile back I predicted that more people than usual would hunt this fall, both to get outside after being cooped up by the virus, and to kill a deer or two for food. All the new hunters will gun hunt, and they have been buying up lots of ammo. Many states are reporting record sales of hunting licenses.
The elephant in the room, the 2020 election. Biden-Harris is the most anti-gun ticket in recent history. It's a shame that with all going on in the world, gun rights and the Second Amendment are rarely mentioned. If the Democrats take both the White House and Senate, watch out! Gun owners fearing a blue wave have been hoarding ammunition and guns.
Local gun shops are reporting that in normal times they might get shipments of 20 to 30 cases of ammo a week; now they are lucky to get to 2 or 3. When those loads hit the shelves, they are gone fast.
The first shortages in early summer were popular loads like 9mm, 45, 6.5 and 22 LR. Now it's spilled over into deer hunting rounds.
In a Fox News post, Kayton Smith, who owns Pooler Guns in Georgia, said, "During May and June everyone bought up all the ammunition that was being made… Even things like 270 bullets. I got an order of 20 boxes and they sold out in three days."
Another store owner said some buyers are stocking up on whatever popular ammo they can get their hands on, even if they don't have the gun to match. People are thinking 'I'll get the ammo while I can, and buy a gun to match it on down the road."
Crazy.
And the kicker: Now manufacturers are reporting a shortage of raw materials to make ammunition. This might not be a short-term problem.
What to make of all this? Well, here on the eve of gun deer seasons, hopefully you have a box or 2 or several of .270, .308, or whatever in your safe at home. You probably do, as most people hunt with one or two rifles and keep a box or two of ammo on hand.
But, if you've been procrastinating and need ammo for the season, look everywhere now. If you find it, buy it on the spot.
Know that you might not be able to find the ammo you typically use. For example, you've always shot Remington Core-Lokt 140-grain in your .270, but all you can find now is Winchester 130-grain. That load will shoot a little differently in your rifle, so be sure to go to a range and re-zero before opening day.