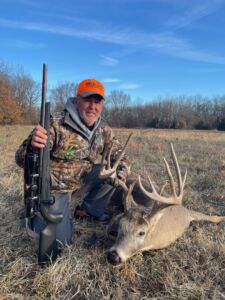 I've been hunting whitetails for 40 years, and nothing a mature buck does surprises me anymore. I learn new things about big deer every season, and so should you. Here are 4 things I learned from last season; use them to kill a giant this fall.
Hunt Later in the Pre-Rut  
The first week of November last season in Virginia, I had 4 good bowhunters in camp to film an episode of Big Deer TV. On the second morning, I caught a fleeting glimpse of a 170-inch buck we had on cam, but other than that the best buck we saw in 6 days was a 3-year-old that might go 120. Not an arrow was fired. So much for getting a TV show.
It was warm all week, with highs in the 60s and 70s, and low in the 50s. All of you have experienced frustrating heat like that in recent seasons. I am convinced that the rising temperatures of the last decade across the country have depressed the daylight movement of all deer and especially mature bucks during the "best" pre-rut weeks of late October and early November. Of course, some lucky hunters still kill giants in the pre-rut, but overall, the hunting is not as good as it was 10 years ago.
I'll still hunt the pre-rut next fall, praying for cool weather, but I plan to put more emphasis on the last 2 weeks of November and into the December post-rut. If you're seeing fewer bucks in the pre-rut too, consider postponing your week of hunting vacay to, say, November 15 or later.
After Thanksgiving is Good
Late in the night of November 27 I arrived in Oklahoma deer camp. Thirty minutes after sunrise on the 28th, I had a 140-class 10-pointer on the ground. The old buck was still rutting hard, checking and pushing a half dozen does around a grassy flat. I stopped him with a loud grunt long enough to put a 150-grain Hornady SST bullet into the boiler room.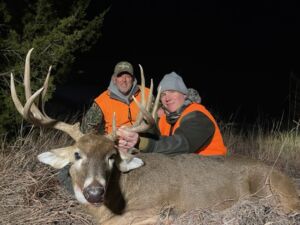 At sunset 2 days later, hunting from the same box blind, my buddy John Trull of Trijicon shot a 5-year-old buck that scored 155. You can see both hunts on Big Deer TV later this summer.
Many hunters begin to lose interest after Thanksgiving. They've hunted the better part of 2 months, and are tired of the 4:00 a.m. grind. Besides, the rut is winding down, right? Well, no, in a lot of places big deer are rutting hard as ever!
The last week of November and into December, bucks are tired and wired, but running on a last jolt of testosterone as they prowl for the last receptive does of the year. In most places, the weather has cooled down, and conditions are ripe for deer movement. Big deer, both residents and strangers, come out of the woodwork and move in daylight hours.
Take that 10-pointer I shot in Oklahoma last fall. The guys on the ranch had run dozens of cell cameras every day since September and had never seen that buck. I figure the interloper had moved in from another ranch maybe 5 or 10 miles away in search of a last doe. The ranch hands did have plenty of photos of John's 155-inch giant; all the images were at night, so they named the deer "Phantom." Twenty minutes before sundown on chilly November 30, the Phantom finally moved in daylight for the last time.
If you haven't been hunting hard the last days of November, start this fall.
Grind it Out in the Heat
On December 1, I left Oklahoma and drove 4 hours north and east to hunt the opening week of rifle season in Kansas. I arrived to temperatures in the 60s and a 20 to 30 mph wind advisory. I could whine and cuss about the weather, or I could go hunting and hope for the best.
I hiked, sweating, a mile and climbed into a ground blind at 2:00 p.m. Around 4:00 the wind laid and the tent stopped flapping. Two does came out and started to feed. Over the next hour, 6 more does and a 4-pointer joined them.
With 20 minutes of legal shooting light left, I glassed deep into the tree shadows behind the does and spotted tall tines. When you spot a shooter, no need to look longer, you just know. The giant ambled in like he owned the joint and checked a doe on his left, then pushed a couple does to his right. The second he stopped broadside, I killed him with one bullet.
No matter where you hunt, days or even weeks of unseasonably warm to hot weather are here to stay, not only in the pre-rut but also sometimes in December. Stop your complaining about it and go hunting. Some giant whitetails are killed on warm, windy days by hunters who stay positive and grind it out. I shot that 165-inch brute on one of the worst weather days of the 2022 rifle season in southeast Kansas.
Spot Big Antlers Early
I glassed deep into the shadows behind the does and spotted tall tines…
Eighty percent of the time a shooter buck will pop out into a field from the same general direction the does entered an hour earlier. Cast a wide view all around with your binoculars, but concentrate on the spot where most does show up early because that is where a big buck will likely pop out.
Glass hard behind and around the does and small bucks, and scour the brush and shadows for the flash of large antlers. Try to spot a big deer early, before he pops up and surprises you. That way you can shift your body and bow or gun into position while he's out there a good way. Then you can watch the buck as he comes in, calm your nerves and get ready. Take the first good, clear shot a giant gives you. If you're tentative and tarry, a big buck will get away.